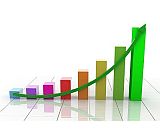 A new edition of an annual research projection from MyersBizNet forecasts 7.7% growth in ad spend across audio/radio, video/TV, display, video, mobile, and other categories. It is the 29th Annual Advertising and Marketing Spending Forecast, and was sent to RAIN News by Jack Myers.

In a break-out of the forecast, the audio and radio categories show growth on both sides of the digital divide, but with much stronger progress in digital ad sales. The report identifies "Legacy Terrestrial Radio" as growing 2.6% this year in ad spend, to $14.6-billion. On the other side of the fence, digital ad spending on terrestrial brands is projected to grow 28%, to about two-billion dollars. A blended projection from those two figures arrives at 5% growth to $16.5-billion for terrestrial radio in 2016.
"Internet Originated Audio" is also broken out, with 25% growth to $2-billion.
The report emphasizes a trend which sees advertisers leaning back to legacy marketing categories, especially linear TV. This trend doesn't seem to affect radio as much in the numbers — it's in the video/TV category where the "legacy" phenomenon occurs more decidedly. Broadcast Network TV is expected to grow 4.6% (but 25% for digital), while Local & National Spot Broadcast TV might grow 11.8% (25% on the digital side).