In Bridge Ratings' latest analysis, company President Dave Van Dyke posited that 2017 would be a "breakout year" for podcasting.
The group's latest survey data about podcast listenership from December showed notable strides over its August responses. In December, 35% of participants were "projected" to have listened to a podcast in the past 30 days; that figure was 20% in August. RAIN asked Bridge Ratings for clarity on projection of past listening. Dave van Dyke told us that the blue bars above represent projected listening behavior after survey respondents were introduced to new listening  technology such as Otto Radio.
Forty-five percent said they had ever listened to a podcast in the December results, for August the rate was 33%. A total lack of interest in podcasting declined from 55% in August to 48% in December.
Van Dyke suggested that the technological developments of the coming year could help podcasters to tackle some of their remaining challenges. For instance, voice-controlled speakers like Amazon's Echo could take away some of the barriers in ease of use. "We anticipate voice controlled audio search and playback to be a significant contributor to the growth of…podcasting this year," Van Dyke said. Ownership rates of the Echo and other similar tech are not definitively known, but there's still progress to be made in getting these AI assistants to their full potential as an entertainment hub.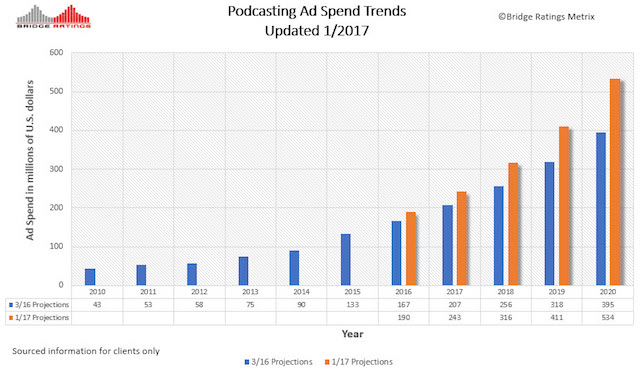 On the business said, Bridge projects 27% growth in ad spend for podcasts in 2017 with estimated total spend of $243 million. That outpaces its previous projection for $207 million in ad spend for 2017. By the year 2020, Bridge anticipates $534 million in ad spend for podcasts.
Finally, the report offered a few tips for reaching millennial and teen audiences. It suggested that those demographics prefer on-demand content on their device of choice, as well as the ability to share and be social around content. For topics, Bridge highlighted non-fiction and reality content as popular among the millennial set.