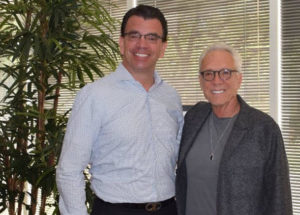 Veteran digital audio executive Billy Freund has joined PodcastOne as Co-COO, according to a news release sent by the L.A.-based podcast company. Freund steps into COO responsibilities alongside Greg Batusic, who operates in New York. Freund will work in the Beverly Hills headquarters.
Billy Freund was a co-founder of Triton Digital in 2006, and was EVP there until 2013 when he exited Triton and joined Clip Interactive. He has 20 years of experience operating and managing companies in the broadcast and digital media space.
PodcastOne founder Norm Pattiz noted that he and Freund worked together at Westwood One, which Pattiz founded. "He understands the space," Pattiz said, "and his background, not only in sales but also technology, operations and affiliations, will provide us with even more unique and valuable input to power the growth of the company."
In issuing his quote in the announcement, Billy Freund disclosed a key metric of audio consumption of PodcastOne shows. "I am very excited to join the PodcastOne team, working shoulder-to-shoulder with Norman Pattiz, Kit Gray and Greg Batusic to continue the company's explosive growth across its 250 exclusive podcast programs and highly effective, non-cluttered advertising environment in more than 2.9 billion annual user sessions."
PodcastOne's portfolio specializes in programs hosted by high-profile individuals across many fields, including Adam Carolla, Shaquille O'Neal, Norman Lear, Steve Austin, Kaitlyn Bristowe, Suze Orman, Dan Patrick, and many others.