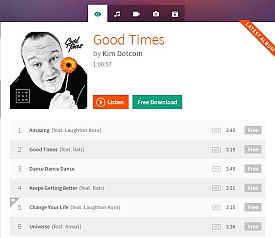 Stealing Beats thunder? Not really. Kim Dotcom, founder of the explosively named Baboom music service, which semi-announced its existence in November, is taking advantage of the U.S. holiday to get a jump on the much-publicized Beats Music debut tomorrow. But Baboom is a blip beside Beats.
That said, the web interface we see in the unleashed preview looks attractive to us — clean, intuitive, with free-play and free-download options on each track. There are placeholders for photos and videos, implying that an artist's profile in this music service could be more personalized than in other on-demand platforms, and might contain interesting secondary content like concert videos.
This glimpse is focused on just one album, and it is Kim Dotcom's album Good Times. So the preview serves as self-promotion as well as brand promotion — suitably, since the famous (and infamous) Kim Dotcom is always part of the brand identity in his ventures. Kim Dotcom has been convicted of fraud and espionage charges, and lives in New Zealand where he fights the U.S. government's attempts to extradite him.
Dotcom has promoted Baboom's business model as a unique scheme in which users install a browser plug-in that serves unique advertisement on the web at large, and that revenue goes toward music purchase and income for musicians. How this will play out exactly, and the legality of it, are not known, but the technology has been in development for a few years.
So, now there is a new and bizarre music service visible on the horizon, heading for full launch sometime in 2014.