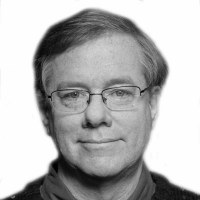 Paul Lamere, director of the developer platform at music intelligence company The Echo Nest (now a subsidiary of Spotify), writes in his Music Machinery blog about how people listen. Most recently he posted a fascinating analysis of how consumers skip tracks. Called "The Skip," Lamere's data-infused article takes advantage of what he calls "my first deep dive into Spotify data." (As such, the metrics he puts forward are informed by Spotify's demographic profile and product experience.)
The broad takeaway is that people skip songs fast, and surprisingly often. The headline finding: bout half of Spotify song plays are skipped before the songs end. (Lamere worked with a sample of "several billions of plays from many million unique listeners from all around the world.")
Lamere's analysis reveals quick decisions, and rejections, among many listeners. There is a 24% likelihood that a song will be skipped over in the first five seconds. The second-by-second view of track-trashing illustrates an interesting abandonment curve: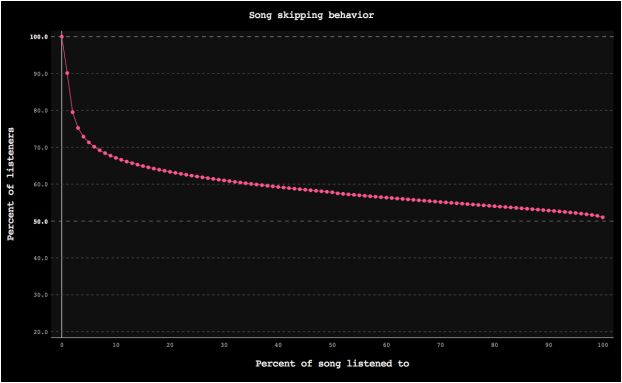 Paul Lamere's breakdown of skip data verifies a survey point in The New MainStream, an Edison Research study, which determined song-skipping is the number-one reason why U.S. adults listen to personalized radio or on-demand streaming.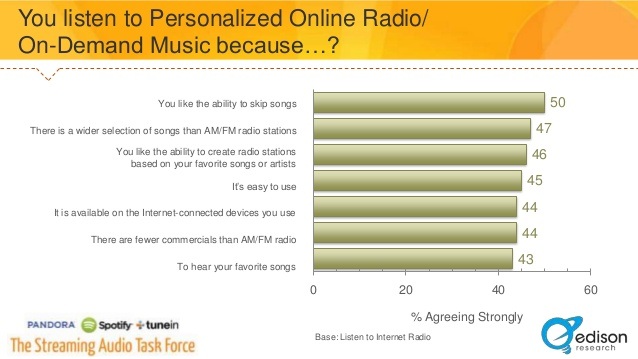 A third key data point in Lamere's study is number of skips per hour, on average, and Lamere discovered over 14 skips each hour across the board. "On average, we skip nearly every other song that we play," Lamere notes. When users are so addicted to quickly discarding songs from the stream, that seems to point to "unlimited skipping" as a premium feature that would entice a non-paying user to upgrade, and Lamere makes that point.
The analysis continues with discoveries about skipping demographics and time-of-day statistics — and also observes that mobile skipping is higher than desktop skipping. Lamere promises an upcoming continuation of "The Skip," looking at skips from the music side — which genres, songs, and artists get slapped away the most.