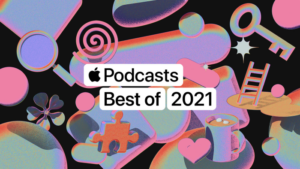 Apple released its review of "best and most popular podcasts" today. The company looks for "exceptional content, unique ability to engage audiences, and innovation in craft, spanning production, presentation, sound design, and more, that expand the definition of podcasting and deepen its impact on listeners worldwide."
The two main honorees:
Best Show of the Year: A Slight Change of Plans (Pushkin Industries, Society & Culture) LISTEN
Newcomer of the Year: Anything for Selena (WBUR & Futuro Studios, Society & Culture) LISTEN Spanish
Additionally Apple lists off 10 Shows of the Year and 10 Episodes of the Year. Dipping into the 22 features shows, we find a lot of high-chart successes, which perhaps detracts from the discovery value of this end-of-year feature. We also see a lot of Society & Culture category entries. Nonetheless, we listed to podcasts avidly, and there is rich discovery here in our routine; we think Apple is doing a good job digging a bit beneath the surface to promote exceptional podcasts.
Discover for yourself, HERE.
.