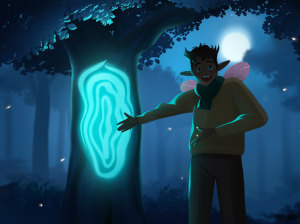 Amazon Alexa is hosting a new interactive media story experience, marking another step forward in how voice platforms and smart speakers can find a niche in entertainment. It is a paid-subscription series that starts free, then encounters a paywall to finish.
The project is a serialized young adult adventure titled Tala's World. It has been licensed exclusively by Amazon and is produced by audio startup Xandra, which specializes in interactive storytelling. "We believe that storytelling is the oldest form of technology, allowing people to learn the lessons of many lifetimes in only one," Xandra states in a website mission statement. "By re-imagining this ancient technology for the newest platforms, we work to ensure that human stories develop apace with the latest technological advancements."
Xandra clients include Nickelodeon, HBO, Google, MTV, Sesame Street, and others. The company won numerous awards for its production of Westworld, The Maze.
The Show
Over the course of seven episodes, the listener helps an elf-like character named Blobby to find his friend Tala, who has disappeared. The listener will make decisions and ask questions to guide the search. While the content is centered on voice and audio, Xandra has also provided some original artwork for smart speakers that have screens.
"Tala's World showcases how voice can enhance immersive storytelling, providing users with an engaging way to influence a plot's outcome," said Joe Balzarini, Amazon Alexa skills director. "We're thrilled that Xandra has created a voice-first experience that demonstrates how many creative possibilities exist for interactive storytelling."
The Experience on Alexa
We attempted to start the Tala's World experience by simply asking Alexa to start it. We didn't know how to pronounce Tala, and we guAlexaessed with Tah-la. That didn't work with "start" or "open." We checked the launch date, confirmed it was today. We tried again with "play" — Alexa got the drift that time, and confirmed the request by pronouncing it Tey-la. That was fine with us … but once in the story, the lead character, Blobby, pronounced his lost friend's name Tah-la, as we originally supposed. So there is some confusion there, and perhaps a lesson not to use ambiguously pronounced spellings in voice-interactive show titles.
We weren't there yet. Sensibly, Alexa requires parental permission for kids to join the game. That required a visit to the Alexa phone app, much scrolling, filling in fields, and pressing buttons that we thought could be labeled "Get on with it already!"
Anyway, eventually we were off and running, guided by the energetically acted voice of Blobby. He is searching for Tala, who is lost in a strange realm, and Blobby needs our help to find her. He doesn't exactly know who you are, so the interactivity begins with Blobby asking questions about the player. Each answer forks the narrative in a direction.
It's fun, and the extreme acting which portrays Blobby is probably great for kids. (The RAIN editorial office is absent of small humans, but we activated sufficient inner child to enjoy Blobby's emotional exhortations.)
Launch Schedule
Most episodes will be released every two weeks. The first two, released December 9th and 13th, will be free for any listeners. The rest of the story will cost $4.99 to access, although subscribers with Amazon's Freetime service will receive the entire arc for free. Didn't know that Alexa has a paid content model for developers? check out this FAQ.