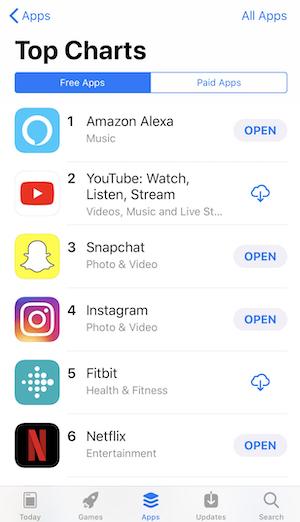 Christmas is a day for opening presents, which means the day after Christmas is when the recipients get to try out their new toys. Lori Lewis, a social media executive with previous stints at Cumulus Media, Westwood One, and Jacobs Media, has monitored which free apps have topped the charts on December 26 for the past four years.
This year, she observed that Amazon Alexa was the top free app on the Apple's iOS App Store. The result was a repeat performance from 2017, when the Amazon Alexa app also topped the free app chart. It wasn't the only voice-focused software to make the list. The companion app for the Google Home smart speaker landed seventh on the free app chart in 2018, dropping one place from No. 6 in 2017.
Lewis' snapshots of the top free iOS apps on the day after Christmas also reflected a few ongoing successes. YouTube, Snapchat, and Instagram have ranked in the top five free apps for December 26 for the past four years, showing just how long social media and video have been commanding attention on our smartphones.