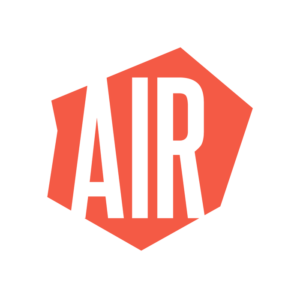 Audio industry advocacy group AIR (Association of Independents in Radio) is announcing today its 2021 group of "New Voices" — an annual award and career support program. Each of the 16 honorees will receive personal mentoring and networking opportunities over a five-month period, and a $1,000 stipend.
AIR was founded in 1988 with a focus on radio, and now equally supports emerging indie podcasters.
This year's program embodies a theme: (Re)defining Our Why: Collectively Envisioning the Future of Audio. "We face a moment that requires reimagining whose voices are fully heard, welcomed and valued in our industry," the organization states. "The time to prioritize underrepresented narratives and talent is long overdue. We envision a future where all media makers—particularly those whose lived experiences were challenged by structural inequity long before 2020—have the resources, support and access to opportunity needed to stay the course of their respective creative paths."
Below are the 2021 New Voices:
Adetola Abdulkadir (him/his) is a Nigerian born audio drama producer and bioinformatic scientist from the DMV. He is passionate about employing fiction as a lens with which his community can unravel sociopolitical issues and bring more obscure dangers, such as the far reaches of big tech, to light. In his free time he enjoys reading a scifi novel or watching a good romcom.
Taylor Cook (they/she) is a freelance audio producer and recent graduate of the CUNY advanced certificate of disability studies program. Taylor is particularly interested in telling stories about transformative justice, queer and trans liberation, education, labor organizing, and disability justice and also aims to challenge inaccessible and ableist practices throughout the field of radio and podcasting.
Jor Gonsalves (he/him) is a queer Indian-American journalist. He is the host of Unshaming, the Podcast. His journalism focuses on telling the stories of communities that have been silenced by shame. His passion for storytelling was born from his own shame story of growing up gay in Texas, in an immigrant Catholic family from India. Unshaming has been recognized as one of Apple's "New & Noteworthy Podcasts," Spotify's "Best Podcasts of the Month," AmazonMusic's "Podcasts for Betting Living," and Forbes's "Podcasts that Build More Empathy." He will be graduating from Columbia Journalism School in 2023.
Tanvi Kumar (she/her) was born in New Delhi, India and raised in America's Dairyland. Tanvi is passionate about using the power of storytelling to break down complex social and political issues. She is an independent producer of a podcast that shares the story of America's immigrant detention centers and those who have been imprisoned in them. She was an Audio Podcast Fellow at Stony Brook University and graduated from George Washington University with degrees in International Affairs and Psychology. When she isn't working on her podcast, Tanvi can be found writing, taking improv classes, or on a long walk through Chicago.
Kristin Leong (she/her) is a multimedia producer. As one of 30 international TED-Ed Innovative Educators, she founded RollCallProject.com, a storytelling project humanizing the culture gaps in schools. Her portrait project HALF: Biracial + Bicultural was nominated for USA Today Award. As a senior at Sarah Lawrence, the New York Times called her a "graduate already in the driver's seat." She is a 2018 Citizen University Fellow, a recipient of The Slants Foundation's Countering Hate Award, and she is a 2020 Seattle Mayor's Arts Award nominee. She lives in Seattle with her wife and son. Her newsletter is RockPaperRadio.com.
Ray Pang (he/his) is an audio producer passionate about exploring the intersections of food, race, and environment. He draws inspiration from previous experiences working in anthropology, urban farming, and environmental education. Most recently, he worked at PRX, where he helped curate and produce PRX Remix. As a Minneapolis native currently living on the East Coast, he spends his free time growing vegetables, cooking elaborate meals, playing board games, and watching birds. Twitter: @Pangray
Molly M. Pearson (any pronoun) was raised in a queer household in Lincoln, Nebraska, and is now based in St. Louis, Missouri. She loves to write, talk, share, and learn about sex, identity, illness, and community. She is a member of the What Would an HIV Doula Do? collective, teaches Storytelling with Campfire, and is involved in local efforts to decriminalize HIV and sex work. She implores us all to listen to our elders. You can probably find her at home, dancing to disco records with the cat at her feet. Insta/Twitter: @mollympearson
Ernesto Rocha (he/him) is an organizer, storyteller, transformational coach, TEDx speaker, and presenter. Ernesto uses the power of story to explore identity formation as a process of personal empowerment and liberation. He is a sought-after speaker at universities and conferences serving as keynote speaker and performer. His stories have reached notable platforms including TEDx, Jubilee Media and KPCC's Unheard LA. His most recent venture was co-creating "Loose Accents", an original podcast that celebrates the brilliance and struggle of growing up undocumented in the United States. He is a graduate of UCLA with a Bachelors in Political Science and Chicana/o Studies.
Julia Rocha (they/them) is an Associate Producer at Latino USA. They graduated from Barnard College of Columbia University, where they got their start in radio at 89.9 WKCR FM, hosting a show on Latin American and Latinx music and social movements. They have reported on issues such as: housing justice, queer and trans organizing, and the movement to defund the police.
Gustavo Sagrero (he/him) has spent his early years as part of many community projects, before leaving his hometown to work in fine dining abroad. Si gusta compartir un relato, no duda en comunicarse. He's back in the newsroom, digging into the roots of his community and abroad for a good story. An avid collector of takeout menus and restaurant shirts, you'll likely find him searching for the perfect bowl of menudo-or in the middle of a street with a phone camera in hand. If you see him, be kind enough to warn him if there's a car coming his way.
Miranda Suarez (she/her) is the Fort Worth reporter at KERA, the NPR member station for North Texas. She covers a little bit of everything, but her favorite topics are city government, affordable housing and the arts. Before she came to Fort Worth, she was living lakeside in Madison, Wisconsin and covering general assignment news as the Lee Ester Fellow at Wisconsin Public Radio. She got her start as an intern at WBUR in Boston, where she reported on her beloved home state of Massachusetts. Outside of radio, she enjoys music, reading, playing D&D, and hanging out with her cat Rio.
Nidhi Shastri (she/her) is an activist and podcaster from Chicago, IL. She graduated from the University of Illinois in 2019, and worked as a grassroots organizer for healthcare reform during the COVID-19 pandemic. Her podcast, Model Minority: Uniquely American, released in 2020 and has been featured in places like Inside National Geographic and at the University of California – Berkeley. She is working to uplift Asian, African and Middle Eastern voices through her work, and use podcasting as a medium for educating and creating social change.
Angela Vang (she/her) believes in ghosts, love, and stories that challenge our understanding of the world. She is drawn to narratives of difference, power, and healing because they complicate our relationships to ourselves and others. Angela is currently an Associate Producer at Little Everywhere, a podcast production house in Los Angeles. Before that, she spent some time at NPR's Code Switch and All Things Considered.
Aria Vega (she/her) is a freelance writer, podcaster, and sex educator whose work is centered on contemporary sex culture and pleasure advocacy. She is currently the advice columnist and podcast host for online magazine POV by Lustery, and her work has appeared in sex industry blogs and publications since 2018.Originally from New York, Aria graduated from Fashion Institute of Technology with a B.S. in Art History & Museum Professions, with a minor in fine art. For her, the places that history, creativity, and culture overlap are where the most striking stories can be found.
Devin Williams (he/him) is a reporter and segment producer for the radio news program Focus: Black Oklahoma. A Texas native, he moved to the Tulsa region in 2013. The community in Northeast Oklahoma welcomed him to become an active participant in its call for change. Devin has always had an interest in activism. He is passionate about creating positive spaces for civil discourse about society, politics and religion. Devin is also a huge nerd and avid consumer of anime.
Rachel Yang (she/her) is an associate producer at Minnesota Public Radio, where she produces a conversation series on racial disparities in her home state. She believes that anyone can be a "good talker," and she dreams of a public media landscape that's more capable of recognizing, fostering, and responding to what's "good" in a broader and more diverse range of voices. As a freelance writer and producer, she's told stories about the arts, labor, food, and family; and she's currently contributing research and reporting to new podcasts from NBC. Rachel also has a background in narrative arts programming with the Loft Literary Center and the Third Coast International Audio Festival. She loves community media, oral histories, and landlines, and she wants to hear from you.
.