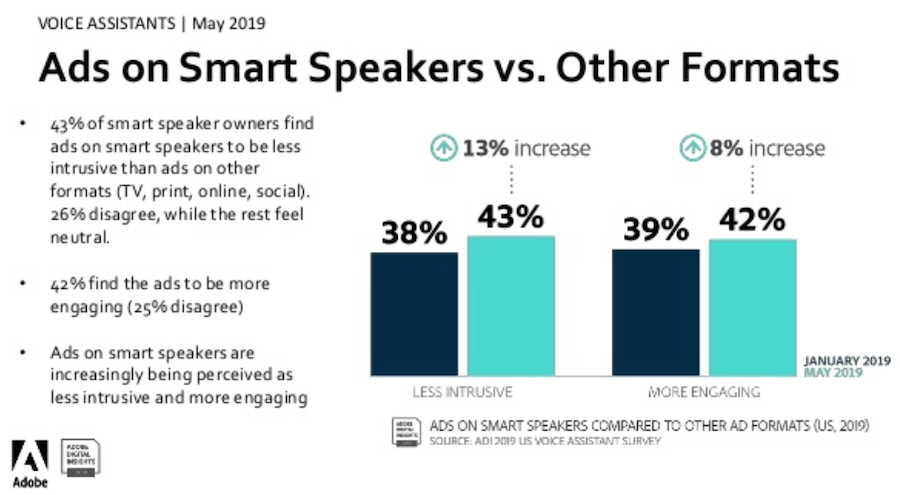 Adobe Digital Insights conducted a survey about voice services. The participants shared details on how and when they used voice technology. About three-quarters (73%) of smart speaker owners use the devices daily, although the June 2019 results showed a drop of 44% in ownership rates compared with the January 2019 data. Music, weather, and silly questions were the most frequent use cases for the AI assistants.
The survey asked about the presence of advertisements on smart speakers. One in four owners said they had heard an ad on their device. Within that cohort, 20% said they heard an ad during a music stream or a podcast, while 11% said it was while searching online and 9% said it was while checking the news. The attitude toward ads on smart speakers was generally more positive among smart speaker owners, with 43% of them finding ads less intrusive in that format. The sentiment was not universal, with 26% disagreeing that smart speaker ads were less intrusive. Forty-two percent of respondents found podcast ads more engaging, and 25% disagreed.
Adobe also found that shopping via voice assistant had the potential to grow. So far, 20% of smart speaker owners have shopped by voice, and 61% said they would consider voice commands to make lightweight recurring household purchases. "Convenience is top priority for today's customers, and voice-activated shopping makes conducting research and making purchases that much more efficient and hands-free," Adobe Analytics Director Colin Morris said. "Rather than having to click through on a computer or mobile device, they can simply engage in a conversation to initiate the purchase or recurring purchase."
Finally, the survey showed that smart speaker owners are entertained by the idea of getting a celebrity voice on their smart speaker. A third of the respondents wanted the option for a guest voice. Most fans want to hear Dwayne "The Rock" Johnson's baritone; he pulled 47% of the vote.