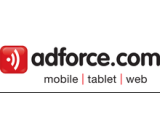 Adforce.com has acquired the exclusive right to sell ads for radio stations and podcasts of broadcast group Communicorp. Technology from Triton Digital and XAPPmedia is part of the alliance.
"The collaboration with Adforce is a first for the radio industry in Ireland and we are delighted to have brought this innovation to the Irish market," said Deborah Carpenter, Head of Solutions and Insights at Communicorp. "We selected Adforce.com for its proven track record in identifying pioneering digital advertising opportunities and helping broadcasters maximise revenues across these."
Triton Digital and Adforce.com have an existing relationship since a tie-up in February. We were told that XAPPmedia's voice-activated audio ads will also be in play, enabled by Triton.
"The advertising potential of digital audio has remained largely untapped by radio broadcasters in Ireland, until now," said Rob Kinsella, Director of Sales at Adforce.com. "Communicorp will be the first to market in Ireland with in-stream advertising customised for digital audio listeners and we are delighted to be working with them in rolling this out."