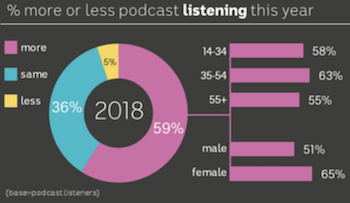 The Australian Broadcasting Corporation released results from its third annual podcast survey during the OzPod event this week. The survey found that women are driving growth for listener engagement overall and for true crime shows in particular. The 2018 results found that 65% of women said they've listened to more podcasts this year than the previous year, compared with 51% for male respondents.
The survey asked participants for reasons why they're listening more to podcasts. The top answer was "more awareness of what's available" at 68%, followed by "more choice" at 61%. "Better content" also motivated 56% of the respondents.
True crime was a big success for the Australian podcast audience, with 44% of listeners tuning into the genre in the past month. That's up from 30% in 2017. True crime listenership grew 15 percentage points among women. Men were driving growth for comedy podcasts.
"Our appetite for podcasts continues to grow across multiple genres, led by compelling true crime stories with real impacts on injustice in our society," said Judith Whelan, AB director of specialist content. "At the heart of such podcasts are strong stories that engage listeners, no matter their gender. As Australia's leading podcast producer, the ABC is proud to share such remarkable stories with listeners."
The survey also provided some general statistics about podcast listening in Australia. Awareness of podcasts among adults reached 91%. A third (33%) said they listened to a podcast in the past month. Overall, 59% of respondents said they listened to more podcasts in 2018 than they did in 2017. Among podcast listeners, 65% said they'd listened to a show in the past 24 hours; in 2017, the rate was 57%. Smartphones were the top devices for access, with 74% using them the most often for podcast listening.
Full infographic: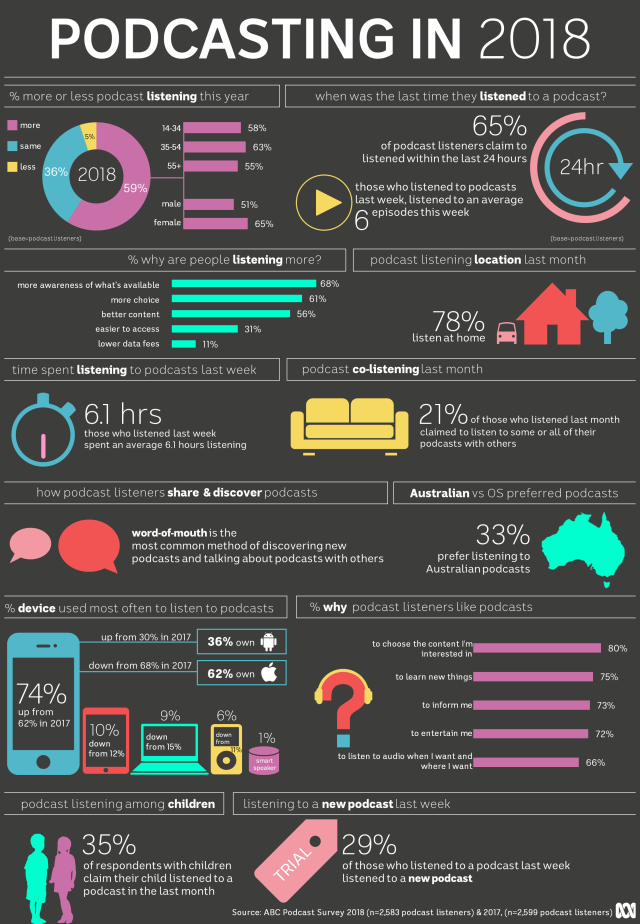 ---