Digital radio software and services provider Abacast has officially beta-released a feature to allow song-skipping on "live" radio streams, and announced a new feature to ensure radio streams begin with music (we first reported on this in February, here).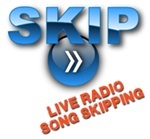 The song-skipping beta is now available for streaming listeners on Federated Media's WMEE in Fort Wayne, IN.
"When a listener chooses to skip a song that is currently being played, another song from the station's playlist will be played immediately and in its entirety for that listener," the company says. Its "Personalized Live Radio" is designed so that the rest of the stream plays seamlessly and in its entirety as well.
The new "MusicStart" feature should roll out in Q1 of next year. Abacast created it to deal with the problem of a listener launching a stream and not immediately getting content that will make her stay (e.g. commercials). Also part of the "Personalized Live Radio tech," the new feature guarantees that all streams start off with music.