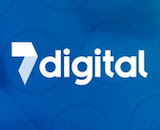 B2B music provider 7digital announced two developments. The company has partnered with Powerchord for a three-year deal in live music and events. Under this agreement, 7digital will offer technology and reporting services for the Peex brand, which provides enhanced audio during concerts and downloads afterwards. Peex is expected to launch in the U.S., the UK, and Europe later this summer.
In addition, 7digital has been expanding the launch of streaming music service Juke, a collaboration with partner MediaMarktSaturn. Juke debuted in the Netherlands in April and rolled out in Germany last week. The platform is expected to eventually launch in all 15 countries where MediaMarktSaturn operates, with Spain the next target.
"Our core strategy has focused on developing the next generation of digital music services that combine the best of radio and streaming," 7digital CEO Simon Cole said. "The latest Juke territory launches represent the same commitment from our client MediaMarktSaturn. We've always thought that innovation in digital music services is where significant new business for 7digital will come from, and the new contract with Powerchord is a good example of that."
7digital signed on to power Juke as part of its agreement with MediaMarktSaturn to acquire music services provider 24-7. MediaMarktSaturn also became the largest individual shareholder in 7digital with that deal.