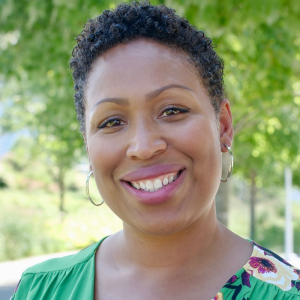 1A, WAMU's successful current events interview show, has finalized its search for a permanent host. It is Jenn White, who comes to the Washington, D.C. station from WBEZ, Chicago where she hosts the station's midday talk program Reset with Jenn White. She also hosted WBEZ's critically acclaimed podcasts Making Oprah and Making Obama. Her first day on 1A is July 6.
1A carves out sections of the program into a podcast series, with episodes of various lengths.
The show has been in a hosting transition phase since the previous host, Joshua Johnson left to join the MSNBC cable channel as a political commentator. 1A was created as a renaming of its predecessor, The Diane Rehm Show when Rehm left for podcasting in 2017.
"I am excited to build on my love of the news by joining 1A as host, to moderate conversations around the most important issues of our time," said Jenn White. "1A is a show by, and for our listeners, and I can't wait to talk to them about the most salient topics facing our country, to find solutions and hold those in power accountable."
As the show's new national host, White will moderate the daily dialogue and champion Americans' right to speak freely. She joins 1A as the show continues to attract new listeners, especially as the country grapples with issues including COVID-19, the upcoming presidential election, a teetering economy and the rise in unemployment. Just since January, the show has added seven new stations, growing listeners across both terrestrial radio and on-demand audio. White takes over from Joshua Johnson, who stepped down in December of 2019 to join MSNBC as a television anchor.
"We are extremely proud of 1A's success," said WAMU general manager JJ Yore. "The show's continuing growth demonstrates how much listeners rely on and trust 1A's deep and unflinching exploration of all facets of American life. With Jenn leading the national conversation as host, I believe listeners across the country will become even more reliant on 1A and take the show to an even higher level of relevance."