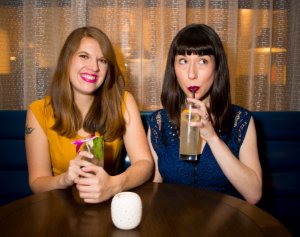 We got note today that HowStuffWorks, the highly ranked podcast network with two programs in the Podtrac TOP 20 PODCASTS ranker, has added a new show to its existing dozen programs. Called FoodStuff, it is a fun and highly researched exploration of how popular foods came to be. the first episode, which dropped today, focuses on champagne.
FoodStuff was an existing brand within the HowStuffWorks media group before today, produced intermittently in video form. "The first version of FoodStuff, focused only on video, was always more of a side project for us.," said Jason Hoch, Chief Content Officer at HowStuffWorks. "We produced it on an occasional basis only." The new show is primarily an audio podcast, accompanied by occasional long-form videos, and brings rigor to its new weekly release schedule.
In its press release, HowStuffWorks promises other new shows to launch in 2017, joining the efforts of many other podcast networks and music platforms to grab pieces of the growing podcast audience and advertising dollars. HowStuffWorks has a built-in advantage in the revenue race, as nearly everything it produces is evergreen — not time-specific at all, and therefore more likely to be discovered long after an episode's release date.
Lauren Vogelbaum, co-host of FoodStuff, is ambitious and optimistic. "There's a story behind every bite we eat and every sip we take — hundreds or even thousands of years' worth of stories." Bon appetit, and prepare for a long run!
---