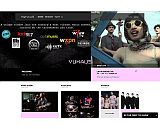 VuHaus, the public radio music video destination (profiled by RAIN News in January) is nearing its one-year anniversary. To celebrate, it plans to live-stream part of the NON-COMM Convention in Philadelphia on May 19.
NON-COMM is a showcase and celebration of music in public radio. The mission of VuHaus is to benefit musicians with a music-video portal of performances gleaned from participating stations. Co-founder Mike Henry told RAIN News, "As Vuhaus grows, the expectation is that we'll attract a new audience to public broadcasting, that hadn't previously known about the amazing work done by these stations."
In January VuHaus obtained a renewal of its operating grant from CPB (Corporation for Public Broadcasting), with part of the funding intended to broaden the platform's station participation from the nine member stations in 2015. WXPN, a founding VuHaus station, will host the celebratory event at World Cafe Live.
Performers at NON_COMM include Bonnie Raitt, The Zombies, Mary Chapin Carpenter, Kevin Morby, and many others.