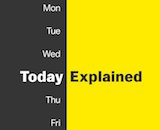 Vox has released new details about its upcoming daily podcast. First, the show is officially titled Today, Explained. Host Sean Rameswaram will delve into the top news stories of the day when the series begins on Monday, February 22.
Episodes will go live in the afternoons Monday through Friday, meaning listeners can tune in on their evening commutes. As you can hear in the trailer, Vox will use everything from interviews to music to keep listeners up to date on the most recent headlines.
Today, Explained is a joint project between Vox Media and Stitcher. After launch, episodes can be heard on Stitcher, Apple Podcasts, and other common distribution platforms.