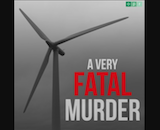 True crime podcasting is still having its pop culture moment, which means it's ripe for the spoofing. Sketch show Portlandia made its own on-point send-up of the familiar show style, and now The Onion is getting in on the act.
The humor website has created a six-part podcast series titled A Very Fatal Murder. The show is set in Bluff Springs, Nebraska, where a 17-year-old named Hayley Price has been killed. From the first moments, the wistful piano soundtrack and the cadence of the host are spot-on. The team at, yes, Onion Public Radio have really hit on the perfect case that offers both gruesome violence and plenty of opportunity for oh-so-ridiculous social commentary.
You can catch all six episodes of A Very Fatal Murder on just about every platform, including Apple, Stitcher, Spotify, Google Play, iHeartRadio, and the NPR One app. Or you can listen on The Onion's website.