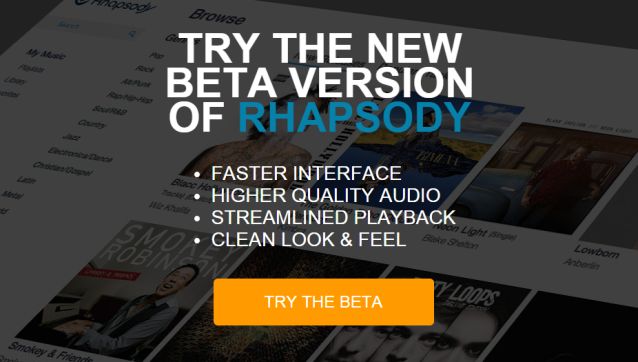 In what could be described as a refutation of Spotify's feature-bristling desktop app, subscription music service Rhapsody is prompting desktop users to try a beta refresh which streamlines the look-and-feel.
Simplification is the keyword of Rhapsody's new look. A clean interface puts forward the main service features with zero ambiguity or confusion. We didn't encounter any glitches in switching back and forth between the beta and official versions. True to its promotion, the beta performance is fast.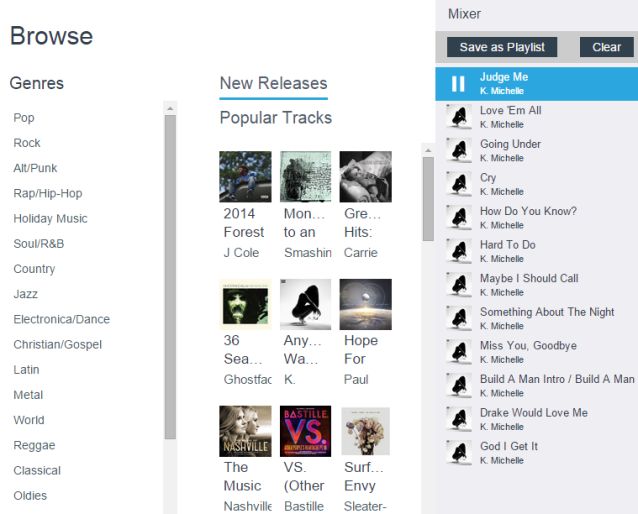 One feature is particularly welcome: toggling the Mixer (t=which shows the tracks currently playing and upcoming) on and off. when visible, the Mixer benefits most from the beta design language, as it was the most feature-cluttered component in the old (officially current) version.
All in all, we're good to go with the beat. Not switching back.
Rhapsody on the desktop is a browser app — a fancy way of saying that it's a website. No installation is necessary; as such, it is a lightweight conception of a desktop music service. The beta streamlining emphasizes that featherweight product ethos, and for our money, is the quickest and easiest subscription music service on the computer.
Rhapsody recently disclosed that over 60% of its global user base accesses the service exclusively on mobile devices. Triton Digital noted yesterday in its Webcast Metrics top 20 Ranker (RAIN coverage here) that 59% of stream listening occurred on Android and iOS devices in September. Even in light of the migration to mobile documented by these numbers, Rhapsody is continuing to develop the product for its desktop users.