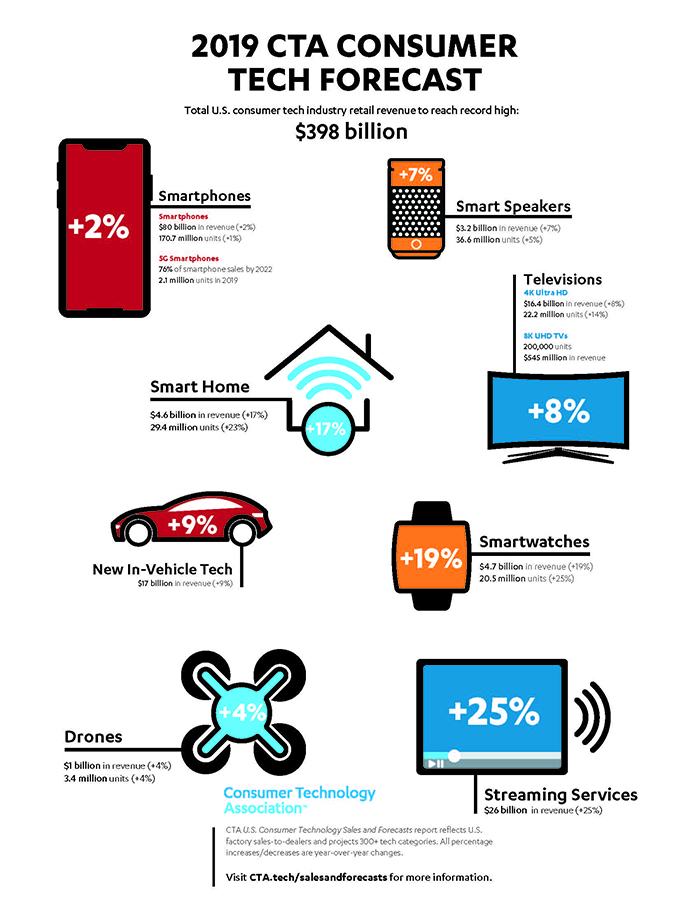 The Consumer Technology Association released a report with its projections for spending by U.S. shoppers this year. The report anticipated that the latest tech developments, both for infrastructure and for products, will help spur a record-breaking $398 billion in retail revenue during 2019. The report was unveiled to coincide with this year's CES show.
Smart Speakers
Smart technologies are expected to play a key part in reaching that anticipated revenue figure. CTA projected that smart speakers are projected to sell 36.6 million units during the year with $3.2 billion in revenue, which would be a 7% on-year increase. Even with the integration of voice assistants into other product segments, smart speakers are likely to be a category to watch, the report said.
On-demand Music Services
The report expected that consumer spending on music and video streaming services are expected to see revenue of $26 billion, growing 25% from the previous year's figure. On-demand music services alone are projected to see revenue grow 22% year-over-year, generating $7.7 billion. (That number should not be confused with what the RIAA reports on behalf of the recorded music industry in America. The CTA projection is also for the U.S., but represents earnings by the music streaming companies, not the flow-through revenue earned by the music industry.)
Other Categories
CTA highlighted a few other top-performing tech categories that are expected to continue driving strong revenue, and many of them have ties to the audio industry. Smartphones, a top platform for many types of audio consumption, are projected to see revenue of $80 billion in 2019. In-vehicle tech is anticipated to generate $17 billion in revenue, a potential 9% increase. This field includes in-car entertainment as well as driver-assist features.
"Our latest research shows innovations in AI and faster connectivity are among the key drivers for the industry's record growth," said Gary Shapiro, CTA's president and CEO.