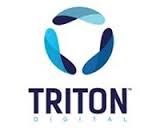 Webcast listening rose 3% month-over-month in March, and 42% year-over-year, according to the Webcast Metrics Top 20 Ranker just released by Triton Digital. (As always, we look at Triton's metrics through the lens of Mon-Sun, 6am-midnight, domestic U.S. streaming. Our key metric of record is Average Active Sessions [AAS].)
Pandora gained 3% in March over February's Ranker, while Spotify's AAS count rose 8%. Together, the two streamers increased Average Active Sessions by 119,000 sessions. Total AAS gain (month-over-month) for the group of 20 top-ranked Triton Digital clients was 115,000, which includes a mix of monthly gains and losses.
Looking at individual month-over-month activity in the top-20 group, ESPN and Greater Media were the biggest percentage gainers, with 10% more Average Active Sessions each (about 2,900 sessions).
While the Katz Digital Audio group (comprising 11 of the top 20 measured Triton clients) grew only one percent year-over-year, the group as a whole rose 42%. ESPN grew its sessions 43% from march, 2014.
Here is the historical trend chart of the top five leaders: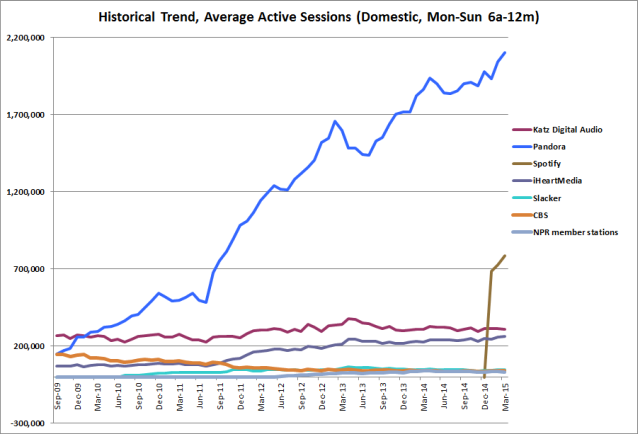 Here is as year-over-year illustration of the Top 20 Triton group, with Spotify added as of January, 2015, when it entered the Ranker report.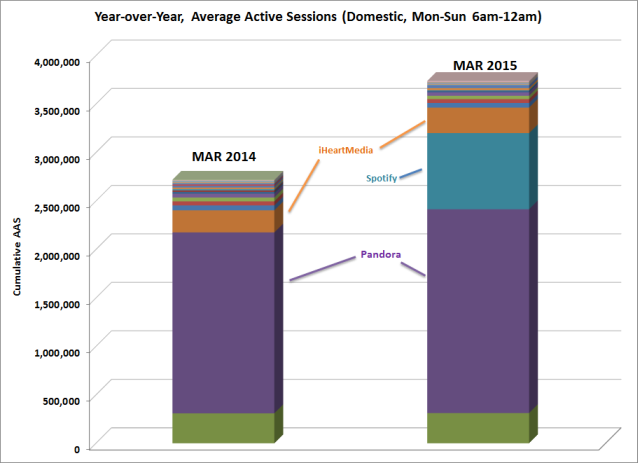 As in previous months, mobile listening drove webcast metrics in March. Triton measured 73.7% of streams moving through mobile devices. Desktop listening accounted for only 26.3% of streams.