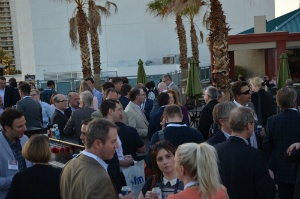 RAIN Summit West, the premiere education and networking conference for the online audio industry, concluded late Sunday afternoon with a Dashboard Dynamics panel moderated by Paul Heine, Senior Editor of Inside Radio. That session wrapped an intensive day which included 14 topical sessions — keynotes, special short presentations, and panel discussions.
The day was anchored by two keynotes that summarized broad industry trends. First, celebrated entrepreneur Jason Calacanis presented his State of Media speech, a roaming encapsulation of the entire media landscape. Later in the day, RAIN founder Kurt Hanson delivered the 2014 edition of his annual State of the Industry Address.
Along the way, focus topics included local digital ad dollars, podcasting, mobile radio apps, curation and storytelling, differentiation among streaming services, royalties and licensing, streaming ads, and more.
Watch the site in coming days for write-ups, audio recordings, and videos of RAIN Summit West.