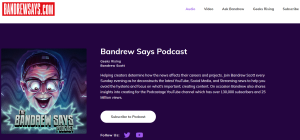 When promoting a podcast, where is best to send would-be new listeners?
A certain tradition has locked in, which is to say: "Listen on Apple, Google, Spotify, or wherever you get your podcasts." That works. But a simpler solution, and one that offers much more information and content, is  to drive new listeners to a show-specific website. Ideally, they would then follow the show via dedicated links to Apple, Google, Spotify, and other platforms. They would also see much more info about the show, its creators, information for each episode, and even listening directly on the website. Some podcast hosts include website-building features in some of their plans.
A new dedicated service has come on the scene, helpfully called Podcastpage (located at podcastpage.io). Launched in April, this helpful web service makes it easy to build basic podcast websites with the essentials — a feed of the podcast, and "About" page, a built-in blog, and the mandatory "Subscribe" page connected to podcatchers. The websites are basic, for sure. The corrolary to that? They are easy to make, and the service is inexpensive.
Podcastpage provides the site-building tools, some degree of customization (you can look at samples), zero coding, and hosting. The slimmest plan costs $8/month with an unlimited number of episodes in the feed, and unlimited number of pages on the site. Naturally, users can use a custom domain. Podcastpage is not a domain registrar, so you get the domain elsewhere, then move it over to Podcastpage. Higher-priced plans accommodate networks of various sizes — the cost tops out at $39/month.
Podcastpage is not a podcast host — it's important to understand the difference between hosting a podcast (Podcastpage does not do) and displaying a hosted feed (Podcastpage does do it.)