RAIN News founding editor Kurt Hanson is in Milan for Radiodays Europe 2015. This is the third of his bulletins. See part 1 here. See part 2 here. Read about the "Stream Battle" here.
---
Radiodays Europe continued in Milan on Tuesday with almost 50 sessions and panels covering a wide range of topics of interest to both public and private broadcasters from across Europe, with over 1,300 attendees registered.
Highlights of Radiodays Europe included:
In a session titled "Don't Keep The Kids Out," a panel of broadcasters from Belgium (Stijn Lehaen of VRT's "Ninjanieuws"), Hamburg (Tom Heerdegenl of Norddeutscher Rundfunk), and Berlin (Torsten Birenheide of BB Radio's "Radio Teddy") talked about their efforts to build successful children's programming — including even hard news programming.
On a keynote panel called "Radio Summit: Passion Meets Progress," which also featured the CEO of Norway's NRK, Thor Gjermund Erikson, the BBC's Head of Radio & Music, Helen Boaden, discussed the "tech giants" that are to some extent her competitors: "They are just overwhelmingly richer than the rest of us, and that, to me, means a challenge, because that means they have money not just to buy new technology and content, but to buy talent that really, really connects. So we find ourselves in a situation in which we grow great content, all of us, and then it goes off to the radio produced by others." She noted, however, "I think when you have very clear public service speech and classical music, I think the dynamics are slightly different."
Dennis Clark, iHeartMedia's VP/Talent Development, gave a well-received keynote session in which he shared his rules on for "Making Radio Personalities Relevant in 2015" — to guarantee that personalities are connecting with their audiences, including both low- and high-tech tools ranging from studio whiteboards to live user surveys.
EBU Media Director Annika Nyberg discussed the state of Europe's DAB and DAB+ roll-out and its six key challenges, looking at the lessons of what seems to be working in the U.K., Norway, and Switzerland. (Norway's slogan: "Digital radio, more to love.") "Digital radio doesn't have a clear message," noted Jacquelin Bierhorst, Project Director for Digital Radio + in the Netherlands.
Laurence Harrison, Director of Technology and Market Development for DigitalradioUK, noted that 20% of European radio listening is in-car, adding that he believes in Italy it's 70%. Ole Jörgen Torvmark of Digitalradio Norge gave an update on Norway's plans for a 2017 switchover from AM/FM to DAB and showed TV spots for the product. (RAIN ANALYSIS: After almost two decades of planning and effort, 80% of Norwegian cars still don't have DAB installed — and yet they're planning to turn off FM in two years? This seems dangerous!)
RFM/Portugal PE Antonio Mendes discussed best practices for using Facebook: Nowadays, listeners are using it (and other social media), he said, for the same purposes they previously used request lines — "to request songs, to criticize music repetition, to greet a DJ, or to react to something they just heard on the radio."
Southern Cross Austereo's award-winning show producer Sam Cavanagh, from Melbourne, Australia, showed "viral videos" from their "Dan & Maz" morning show, including entertaining "glitterbomb" segments that were produced and repurposed in several different ways. He also showed excerpts from a nightly "Shazam Top 20" countdown show on 2DAY Hit 104.3. "We're passionately trying to invest in our own disruption," Cavanagh noted.
From the auto magazine Practical Classics, James Walshe described his experiences with auto dealers: "Quality music radio is nothing without the engaging, entertaining personality. I want the salesman to be enthusiastic fans of radio!"
Coleman Research's President and COO Warren Kurtzman gave a sponsored presentation on how to use the rules of "Aristotelian dramaturgy" — with examples from "The Big Bang Theory" (the protagonist (a/k/a hero) is Leonard; the antagonist (a/k/a nemesis) is Sheldon) and "The Hunger Games" to illustrate how to create the ideal team for a morning show and compelling content for it.
Tobias Wallerius, hardware architect for OEM radio supplier Visteon, noted the challenges for designing in-car systems — including both the 3-year design cycle and the likely 15-year product lifetime. He argued for better radio standards, including RadioDNS for Hybrid Radio, "which is coming in a lot of cars in 2017," including one uniform interface for AM, FM, and DAB.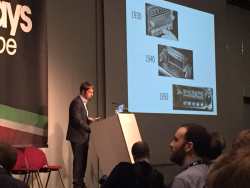 On the same panel, UK Radioplayer Managing Director Michael Hill showed illustrations describing the history of car radios from 1950 to today, including the important moment when the "Aux In" jack first appeared. He showed TV spots for Ford's Mirror Link, BMW Car Play systems, and worked that "As our competition is going up, our simplicity is going down."
Many of those topics, of course, will be further addressed in our upcoming 4th-annual RAIN Summit Europe, to be held in October of this year in a city and venue to be announced shortly.
More coverage from Milan will continue later this week in RAIN News!