Continuing our coverage of RAIN Awards semi-finalists, today we reveal those entrants advancing to the next round for the "Best Streaming Broadcaster."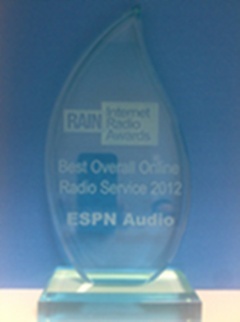 We'll present the fourth annual RAIN Internet Radio Awards on September 17 at RAIN Summit Orlando. So far this week, we're announced the semi-finalists for the categories of "Best Single Stream Webcaster" (see them here) and "Best Overall Digital Strategy" (here).
Congratulations to these semi-finalists, limited to AM or FM broadcasters that stream online, from which our judges will determine the station that has executed the best streaming strategy. This award was one of two ESPN Radio took home last year (it also shared "Best Overall Online Radio Service" with Pandora — and it's in the running again to defend its crown). Other previous winners were CJNW "Hot 107″/Edmonton (2011) and 1500 AM ESPN/Minneapolis-St. Paul (2010).
Click the links below to visit each station's site and tune in, and see why we feel they deserve further consideration for a RAIN Award:
We'll reveal the finalists for all five categories next week. Thanks to all the services that entered our Awards this year.
We created the RAIN Internet Radio Awards to better recognize the achievements and the best practices of our industry, and have presented them at the last three RAIN Summit fall events. Read more about the Awards here.
RAIN Summit Orlando — an Official Partner Event to The Radio Show produced by the NAB and RAB — looks to continue our tradition of hosting the industry's premiere learning, sharing, and networking events. Entercom president and CEO David Field will keynote. The day will also include panel discussions, a research presentation from GroupM Next, and RAIN publisher Kurt Hanson's State of the Industry address. More information, and the registration link, for RAIN Summit Orlando is here.