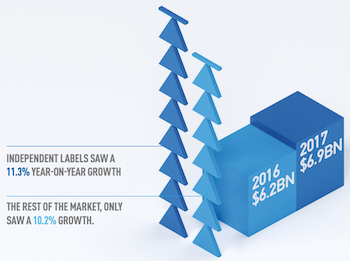 The Worldwide Independent Network has released its third annual report on the role of indies in the global music market. The report is based on a MIDiA Research study conducted on behalf of WIN and it was authored by Stuart Dredge of Music Ally.
The top-line takeaway is that independents are now responsible for 39.9% of global recorded music. Indie music generated global revenue of $6.9 billion in 2017. The revenue increased 11.3% from the previous year total, outpacing the overall music market's growth of 10.2% and major labels' growth of 9.7%.
Streaming helped the strong indie performance, with a 46% increase in revenue from that source. Streaming revenue for indie labels reached $3.1 billion, securing a 44% share of indies' total results. The report notes that indie labels have been adapting quickly to the music economy's shift into streaming.
"We're approaching a tipping point — perhaps even this year — when streaming will represent more than 50% of revenues," Dredge writes.