Pandora touts its growing mobile audience, but one advantage to the desktop experience is the larger canvas for advertisers. It's arguably an advantage for users on the receiving end, too, if the commercials are contextually relevant.
In November, Definitive Technology assembled multi-dimensional a campaign for its new speaker system. The campaign is anchored by Grammy-winning R&B spokesperson John Legend. Elements include a video, display creative, and a Facebook contest.
As encountered on Pandora's desktop web app, the relevance tie-in was apparent when the presentation landed in a station seeded with blues-rock star Bernard Allison — arguably a genre sibling of John Legend. The stream was interrupted by a the video ad:
---
When it ended, the screen resolved to a background takeover by Definitive Technology display art, which remained in place until the next scheduled ad spot: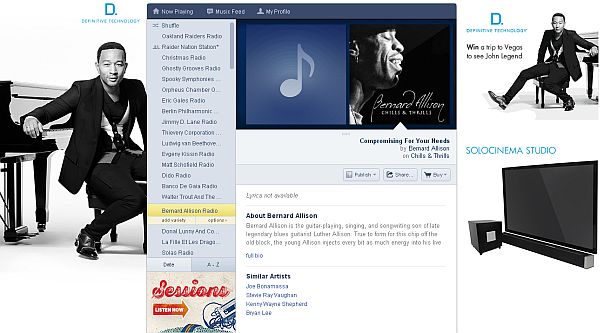 Audience segmenting is a relatively new field for audio streams, with early advances by Pandora, AdsWizz, and audience intelligence company The Echo Nest. While that emerging technology is hopeful for stream advertisers generally, music choices alone provide precise contextual targeting for endemic advertisers selling music-related products and services.