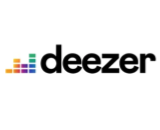 Deezer announced new partnerships with five podcast companies. The streaming audio service is now collaborating with podcast publisher Libsyn; French podcast host Ausha; podcast creation platform Podomatic; podcast host Blubrry; and hosting and distribution analytics platform Simplecast.
The company also announced new technical updates for its work with two ongoing partners in the podcast space. Audioboom and Voxnest's Spreaker now offer one-click show submission for podcasters to make their content available to Deezer's global audience.
"It's great to see a huge increase of music fans enjoying podcasts as part of their Deezer streaming experience," said Frédéric Antelme, vice president of content and productions. "Our goal is to help podcasters easily provide fans with the freshest shows from all over the world. We're really excited to work with our new and existing partners to help more people than ever before discover podcast content."
Deezer also shared some internal statistics about the popularity of podcasts on its platform. Its monthly podcast usage has grown by 250% in the past two years, alongside quadrupling podcast listening time.