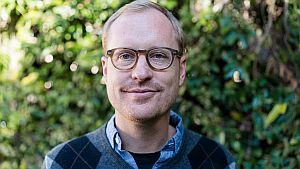 This guest column is by David Porter (@davidporter), Founder and CEO of music service 8tracks. It was originally published on Medium.
---
8tracks, my oldest 'child' in a sense, turns 8 today (we launched on 8/8/2008). So I thought it'd be a good time to reflect on the 8+ years that've gone into it, beginning with a bit about me.
I grew up in Delavan, a town of 2,000 in central Illinois. After graduating from high school — with roughly the same 50 people with whom I'd started kindergarten — I went to the University of Illinois at Urbana-Champaign. I studied accounting, joined once-venerable Arthur Andersen in Chicago, and fully intended to go to a finance-focused business school after a few years.
But after 3 years at Andersen, I had the opportunity to move to London, ostensibly to further my professional development but really, in large part, so I could explore its amazing electronic music scene. Around the same time, I read Nicholas Negroponte's Being Digital, which predicted how the internet would ultimately change business, society and culture. I became excited about the potential for the internet and began to realize there could be a nice intersection between my personal interests and professional plans.
So when it came time to apply to business school, my ambitions had changed. I moved back from London to attend Berkeley in July 1998. And I decided to take a different tack than I'd originally intended, writing my application about starting an internet music company after graduation. I played the electronic music I'd discovered during the London years for classmates — this sort of music just wasn't even available for sale in the States yet. There had to be a better way to help people discover the amazing music out there.
In my second year of b-school, I wrote a business plan for a media management class. Napster 1.0 had just launched, providing access to just about every song ever recorded. While cool, what I thought was most compelling was the Napster "hotlist" feature; if you were downloading music from a particular user time and again, you could click on his username, and then hit "hotlist" to see all of the other MP3s on his hard drive. It was like walking into a stranger's home and checking out her record collection, knowing in advance that you shared musical tastes.
Then it hit me: DJs in the electronic music scene of 1990s London were often better known than the artists whose music they played. With so many producers creating so much electronic music in myriad subgenres, a listener needed a "music sherpa" to make sense of it all. It occurred to me that this DJ paradigm could be applied online, bringing order to the Napster hotlist feature, in effect, or to the vast expanse of music eventually available in a celestial jukebox. I wrote up a plan for a business I called Sampled & Sorted (a bit of double entendre to those familiar with the UK clubbing scene).
Sadly, I was unable to get the plan funded the following year, after the NASDAQ crash in spring 2000. A few VCs suggested I find another company doing something at least tangentially similar, and I ended up joining Live365. I worked there for 6 years, far longer than I'd expected. The company reached profitability in 2005, and I almost certainly earned my Gladwellian 10,000 hours. In 2006, armed with practical experience to better execute the Sampled & Sorted vision, I founded 8tracks.
I pitched Fred Wilson on 11/15/2006. While Fred thought my concept was interesting, he reminded me that he funds businesses, not plans. I needed to figure out a way to build the platform first, and ideally gain traction, before seeking funding. I enlisted my former Live365 intern and good friend Remi Gabillet, and we set about building the website. After a few missteps (Flex for one), we had a good-enough version ready by July 2008, and figured we'd go with the auspicious date 8/8/2008 for launch.
We saw good early take-up. Our launch coincided with closure of the very cool Muxtape, which led to some favorable coverage for 8tracks. The following spring, two playlists blew up on StumbleUpon: The Ocarina of Rhyme — a mixtape of classic hip-hop and music from the video game Zelda — and Songs that make you feel better — happy music for recessionary times. As a result, we grew 10X in a month, from 30k to 300k unique visitors. We raised some angel funding to ensure we could afford our growing royalty and Amazon Web Services bills. But we still had no full-time employees nor salaries.
Over the next 2 years we saw steady, continued growth, and we topped 2.5m unique visitors by spring 2011. Thanks to an intro by Alex Ljung of SoundCloud to Mike Volpi of Index Ventures, we were able to close our first institutional round and, in August 2011 (almost exactly 3 years after launch), hire our first employees. In addition to Index, the round included Andreessen Horowitz, 14W (backed by Len Blavatnik), SoftTech, English DJ Pete Tongand Atlantic Records chairman and CEO Craig Kallman. Equipped with a bit of cash from this $1.2m seed round, we could invest for growth — which we did, nearly tripling in traffic and reaching profitability within the next 2 years.
It's been 5 years since raising institutional funding and hiring our first employees. We've faced a few challenges in the last couple of years — Spotify's ascent, in particular, but also our removal of SoundCloud as an option in playlist creation and blocking access by listeners outside the US and Canada (the latter sets the stage for direct deals with labels and aggregators, a process that's now progressing nicely, and we'll be re-introducing 8tracks in certain countries in the months ahead). We remain the #3 pureplay internet radio service in the US (after Pandora and iHeartRadio) and draw 5m monthly active users across web, iOS and Android in the US and Canada.
I believe that the opportunity for digital music has never been more attractive. While 2 of the world's most valuable companies (Google and Apple) offer music for strategic reasons, and the 2 top-of-mind brands for digital music (Spotify and Pandora) have raised billions, the market is simply massive and growing. Unlike other forms of digital consumption, music can be enjoyed while doing just about anything. If lean-back (aka radio) programming is sufficiently relevant in terms of taste and context, it's the go-to option for most listeners, most of the time. Coupled with dead simple broadband access in the pocket (iPhone and Android), home (I'm bullish on the Amazon Echo and its imitators) and car (soon), internet radio could well become the most ubiquitous form of media mankind has known.
Where does 8tracks sit in this ecosystem? We're lean-back that goes deep. If you ask most listeners what they like and dislike about Pandora, they'll say it's easy — but that it also tends to repeat, or draws from a (relatively) shallow pool. On the other hand, Spotify and SoundCloud now offer just about all recorded music. Spotify's success with Discover Weekly notwithstanding, the top-of-mind use case for both is a la carte listening to a track, album or artist you already know. 8tracks lives in the middle, "packaging" music for any taste and moment in a scalable way, delivering the right balance of relevancy and discovery, while providing artists with exposure to an appreciative audience.
But we could be much, much better. Most critical to our future success is removing the friction for our DJs and listeners to do what they do. We're building a music library to allow people to make a playlist without having to upload MP3 or AAC files; many (perhaps most) listeners in our core 18–24 demo don't have music files lying around on their hard drive anymore, let alone on their phone. We'll make our iOS and Android apps "feature complete" by including playlist creation in the months ahead. Listeners, in turn, should be able to open the 8tracks app and whatever playlist shows up first on home is exactly what they want to listen to right now, based on taste and contextual cues. There's much more to accomplish in our data science game, so stay tuned.
We recently kicked off a crowdfunding round under Regulation A+ to allow the DJs and listeners who love 8tracks to invest directly in the company. This has only been an option for a year, and 8tracks one of the first companies in the US to pursue this path. It's a particularly good fit, as it is indeed our community that is 8tracks' chief strength — 8tracks users create the mixes, 8tracks users share their mixes through word-of-mouth and social media, and so it stands to reason that they should have the opportunity to become owners in an economic sense as well. We'll use the funding to reduce friction in listening to and making playlists, to ensure we're available on all "dials" in home and car and anywhere else you'd expect to tune in, and to bring 8tracks back to a global audience. (If you'd like to participate, you can learn more or invest as little as $100 here.)
It's been a long, beautiful journey. Thanks for listening, and here's to the road ahead.
---