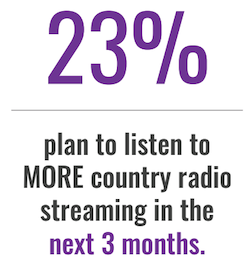 Futuri Media collaborated with the University of Florida College of Journalism and Communications for a survey into trends for country radio listening. The results were presented at CRS 2020.
The survey found that while most country radio listeners have maintained a steady rate of AM/FM listening, 23% plan to listen to more via streaming over the next three months. Mobile apps also represent a source of engagement for country radio fans. Within the country radio AM/FM listeners surveyed, 44% said they have their favorite station's mobile app installed. For listeners between ages 18-34, the rate rises to 48%.
The results also found that country radio listening carried over to a general interest in music podcasts. More than a third (36%) of all country fans listened to a podcast in the past month, and the rate jumps to 47% for the 18-49 age bracket. Among the segment that has listened to a podcast in the last month, 30% cited music as their favorite topic.