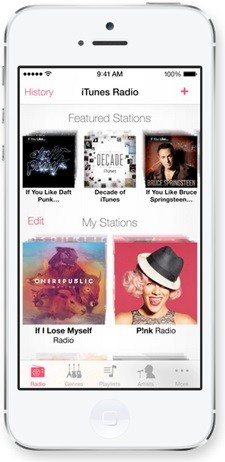 from today's early edition:
Today's the big day Apple is expected to launch (in the U.S. only) the long-awaited iTunes Radio webcasting service (at 1pm ET, 10am PT). We'll be following live-blogs from sources like Mashable here and GigaOm here.
While we wait, there are several "what to expect" round-ups out there. Glenn Peoples at Billboard says his sources say to expect an ad every 15 minutes (which is far less than broadcast radio…but it'll be interesting to see how the audience reacts) on the free version.
One unique feature will be the service's integration with Apple's voice-command function, Siri. You can see a cool video demo of that here.
Peoples also mentions "featured stations," and a screenshot that shows options like "If You Like Bruce Springsteen..," "Country Summer Songs," and "Trending on Twitter." There will be over 200 genre stations.
Instead of a "thumbs" rating system to customize the channel, listeners will award songs a "star." There will also be "slider" customizations (for example, adjusting between "Top Hits" and "Discovery" to adjust the amount of unfamiliar music that's played), like Slacker or SiriusXM's mySXM webcast service.
iTunes Radio will also offer some exclusive music and promotional tracks (we learned about this when details emerged about Apple's licensing terms — see RAIN here).
Read more in Billboard here. See Tom Taylor's coverage in Tom Taylor Now here.