Right after the July 4th holiday we opened the competition for the fourth annual RAIN Internet Radio Awards, and began accepting applications from radio stations, pureplay webcast services, and stream aggregators from around the world. Judges began reviewing those submissions last month, and last week we revealed those semi-finalists that had made it to the second round of consideration.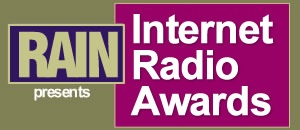 Today, we'd like to announce those services that have advanced to the round of finalists, from amongst which our judges will choose the winner of each category's award.
The RAIN Internet Radio Awards were created to recognize the achievements of webcasters and broadcasters in our innovative and quickly-growing field. This year, we added a fifth award, for International Excellence in Online Audio. As always, we'll announce the winners and present the awards at the RAIN Summits fall event in conjunction with the RAB/NAB Radio Show — this year in Orlando on September 17th.
Congratulations and good luck to all the 2013 finalists:
Best Single Stream Webcaster
Best Streaming Broadcast Station
Best Overall Digital Strategy
International Excellence in Online Audio
Best Overall Online Radio Service
Read more about the RAIN Internet Radio Awards here. All of our latest info on RAIN Summit Orlando, including speaker list, panel and presentation descriptions, and registration link, is here.