New York-based ad monitoring service Media Monitors has released its Q2 report of "Top 200 [U.S.] Podcasts," "Top Publishers," and "Top 10 [Podcast] Categories," with the top five podcasts being "The Joe Rogan Experience" (publisher: Joe Rogan), "Crime Junkie" (audiochuck), "The Daily" (The New York Times), "Call Her Daddy" (Alex Cooper / Spotify Exclusive), and "This American Life" (This American Life / WBEZ), as reported by Inside Radio.
The ranker is based on a survey 1,012 of U.S. podcast listeners age 18+ during the second half of June, using a panel provided by the survey research firm ReconMR.
New to the top 25 podcasts in the MediaMonitor ranker are Wood Elf Media's "Distractible," MrBallen's "MrBallen Podcast: Strange, Dark, and Mysterious Stories," and Ramble's "Rotten Mango."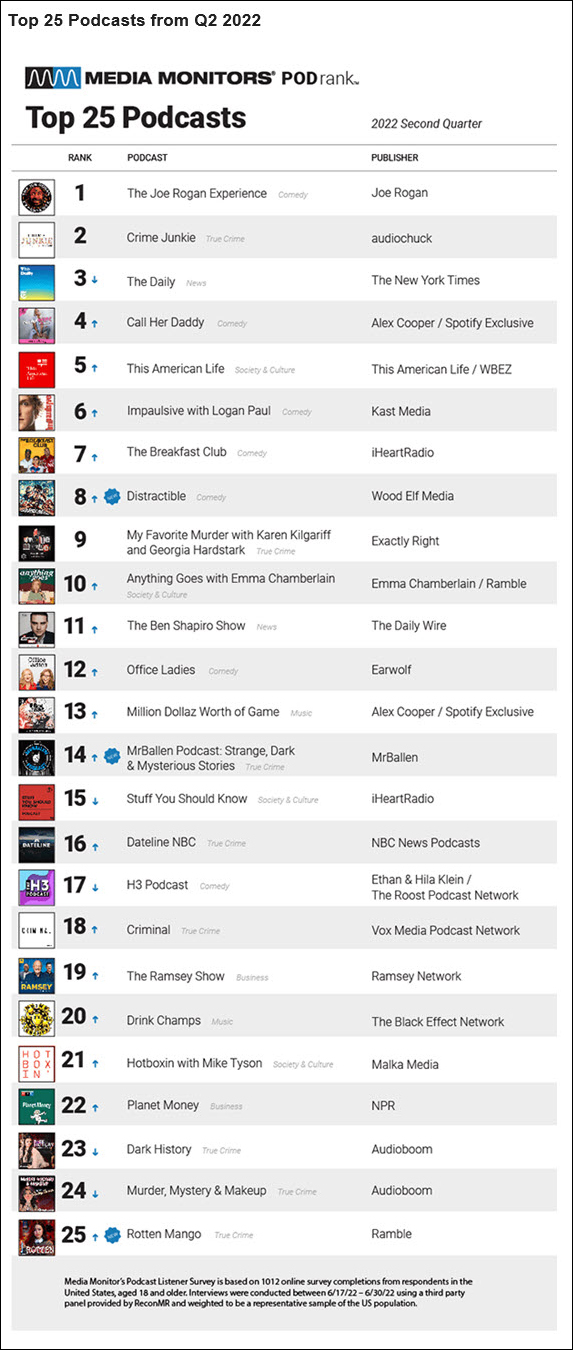 Note that U.S. broadcasters have a very limited representation on the "Top 25" list — two shows from public radio broadcasters (NPR and WBEZ) and two shows from iHeartRadio, with none from SiriusXM, Audacy, Cumulus, Beasley, et al.
Within the top 200 shows, the top publishers were iHeart (17 shows), Spotify (12), Audacy/Cadcence 13 (10), SiriusXM/Sticther (10), Audioboom (8) and NPR (7).
Also within the top 200 shows, the top categories were comedy (55 shows), true crime (35), news (28), society & culture (25), sports (12), and TV & film (8).