RAIN founding editor Kurt Hanson is reporting from Tokyo, where he is surveying the tech, culture, and audio landscapes. This is his second report. See the first report here. 
---
J-Wave
One of the highlights of my trip was being invited by my friend (and former RAIN Summit panelist) Jon Kabira to attend a live broadcast of his Friday morning (6-11:30am) radio show on the popular FM station J-Wave.

Kabira is a well-known air personality (or "tarento," meaning talent) who had a long, multi-year run as J-Wave's morning man (with a bilingual approach where he breaks into brief phrases of English here and there), does TV soccer commentary for big games, co-hosts major awards shows, hosts a Sunday morning public affairs show on the national public TV network (NHK), and is the play-by-play announcer (worldwide) on a popular soccer videogame, "World Soccer: Winning Eleven."
Interestingly, at the height of his popularity, perhaps feeling burned-out due to the high complexity and energy level of his morning show (which relies on various teams of producers producing different complex segments all morning long), Jon took a couple of year-long sabatticals to see the world with his wife and daughter, and has come back currently to J-Wave as a Friday-only program.
That seems unique but smart, as I presume Friday is a high-demand day for advertisers wanting to reach consumers going into the weekend, making it a win-win for both Jon (shorter radio workweek) and his station (popular star on the key morning for ad revenues).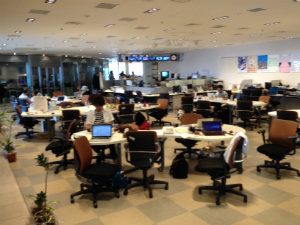 J-Wave was originally launched 25 years ago with some help from American radio consultants including Frank Cody (of L.A.'s "The Wave" fame).
The station broadcasts from the 33rd floor of the lead skyscraper in the most beautiful mixed-use real estate complex I've ever seen, Roppongi Hills. (It's so beautiful and futuristic that I couldn't help imagining seeing Starfleet officers and sentient, evolved apes walking around the public areas!)
Question: Do any local FM music/entertainment stations in the U.S. have *teams* of producers preparing their segments for the following day? (J-Wave's bullpen of producers' desks takes up almost half the floor of the skyscraper!) If the stations did, could they line up high-paying sponsors (e.g., the "7-Eleven Magazine Rack," ten minutes of entertaining reviews of the latest magazines every Friday at 11:10am)? (See J-Wave's full schedule, with lots and lots of sponsored block programming, here: http://www.j-wave.co.jp/contents/timetable/contents.htm)
At any rate, it seems to be working in this case!
Kurt in Nishi-Shinjuku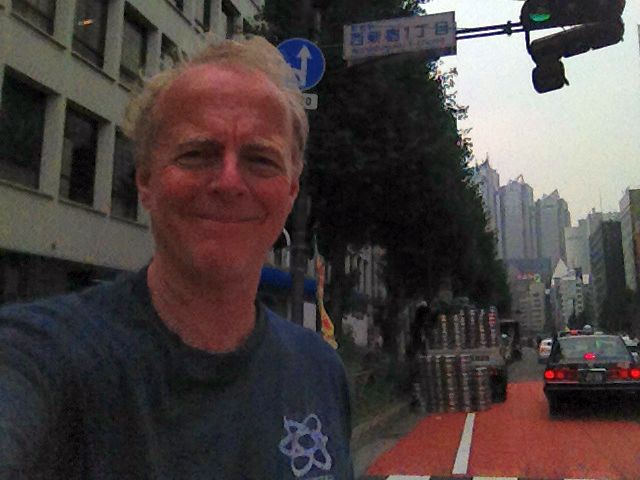 In the background, you can see the hotel where Bill Murray's character stayed in in "Lost in Translation." This remains the big Hollywood reference for modern Japan in films.
The recent U.S. production of "Godzilla," released in the U.S. weeks ago, just came out in Japan last week, with limited promotional support.
By comparison, promotions for a new 3D CG version of "Doraemon" — as you probably know, the bright blue "cat-type robot of the 23rd century of the future" who befriends a small boy and time-travels with him through a magic doorway — were everywhere!