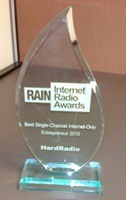 Today we wrap up our unveiling of the semi-finalists for the fourth annual RAIN Internet Radio Awards. Thanks to all who entered, and congratulations to those making it to the final round.
[Earlier this week we announced the semi-finalists in the categories of "Best Single Stream Webcaster," "Best Overall Digital Strategy," and "Best Streaming Broadcaster."]
We'll present the Awards at the conclusion of RAIN Summit Orlando on September 17.
This year we added a new category to the Awards, "International Excellence in Online Audio," to recognize the great services not based in the U.S. One of these five services will win the inaugural "International" award this year: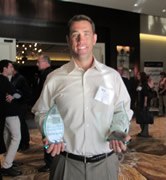 The final award, for "Best Overall Online Radio Service," goes to the service that provides the best overall online listener experience, based on programming, technology, popularity, visual appeal, ease of use, operational sustainability, integration of advertising assets (if applicable), and other criteria. Eligible services include single-channel and multichannel "online only" operations or streaming broadcast stations.
This award has been captured by leading webcaster Pandora every year (though it shared the honor last year with ESPN Radio — that's ESPN Radio Director of Digital and Print Media Revenue and Operations Cory Smith pictured last year in Dallas) since the RAIN Internet Radio Awards began in 2010. And, it's a semi-finalist again this year. Can one of the other nine unseat the reigning champ?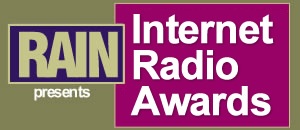 Next week, we'll winnow down the semi-finalists in all five categories to reveal the 2013 RAIN Internet Radio Awards finalists.
September 17th RAIN Summit Orlando — an Official Partner Event to The Radio Show produced by the NAB and RAB — looks to continue our tradition of hosting the industry's premiere learning, sharing, and networking events. Entercom president and CEO David Field will keynote. The day will also include panel discussions, a research presentation from GroupM Next, and RAIN publisher Kurt Hanson's State of the Industry address. More information, and the registration link, for RAIN Summit Orlando is here.