Digital Media Entrepreneur Jason Calacanis, Many Digital Music Execs to Speak at RAIN Summit West in Las Vegas April 6th


Thierry Ascarez
Radionomy
VP, Business Development


Darryl Ballantyne
Lyricfind
Founder & CEO



Michael Bergman
CEA
Senior Director, Technology & Standards


Peter Berg Steffensen
Moodagent
Founder & CEO


Phillip Beswick
The Media Audit
President and CEO


Scott Burnell
Ford
Global Lead, Business Development & Partner Management

Jason Calacanis
Inside.com
Founder, Entrepreneur, Investor

Tim Clarke
Cox Media Group
Director, Digital Audience for Radio


Ted Cohen
TAG Strategic
Managing Partner


James Cridland
Media UK
Managing Director


Rick Ducey
BIA Kelsey
Managing Director


Bill Freund
Clip Interactive
EVP/ Chief Revenue Officer

Jay Frank
DigSin
Owner/CEO


Kurt Hanson
RAIN Enterprises/AccuRadio
Founder


Paul Heine
Inside Radio
Senior Editor

Brad Hill
RAIN Enterprises
VP/Managing Editor


Les Hollander
Spotify
Senior Director, Sales U.S.


Steve Jones
ABC News Radio
VP & General Manager


Mitch Kline
Targetspot
Co-CEO

Martin Kristiseter
Marketron
VP, Mobile Solutions

Jennifer Lane
RAIN Enterprises
President & CEO

David Levin
BMI
VP, New Media


Andy Lipset
Pandora
VP, Local & National Broadcast


Cheryl Lucanegro
SoundHound
VP, Sales

George Lynch
Pandora
VP, Automotive Business Development


Mark McCrery
Podtrac
Founder & CEO

Bryan Moffett
NPR: National Public Media
VP, Digital Strategy and Sponsorship Opportunities

Mike Novak
K-LOVE
President & CEO

David Oxenford
Wilkinson, Barker
& Knauer LLP
Partner

Chris Peterson
TheBlaze Radio Network
Director of Operations

David Porter
8Tracks
Founder/CEO

Ram Ramkumar
Swell Radio
Co-Founder & CEO

Ty Roberts
Gracenote
Co-Founder & CTO

Carl Rohling
TuneIn
VP, Sales & Business Development

David Rosenberg
Beats Music
Executive Director Legal & Business Affairs


John Rosso
Triton Digital
President, Market Development

Colin Rushing
SoundExchange
General Counsel

William Sanchez
Fox Radio Network
Senior Director, Digital/ Executive Producer

Rockie Thomas
AdsWizz
VP, Business Development

Tom Webster
Edison Research
VP, Strategy & Marketing

Jeff Wender
The Nielsen Company
Senior VP, Digital
8:15-8:45




Registration/ Check-in

 
9:00




Opening Remarks

Welcome to the 13th Annual RAIN Summit West!
9:05-9:50

Panel




LOL! Local Digital Dollars Are Serious Business

Local ad dollars are shifting towards digital, with small and medium businesses spending more and more of their ad dollars online. What tools do you need to capture your share of this digital spend?

Moderator: Rick Ducey, Managing Director (BIA Kelsey); Panelists: Tim Clarke, Director, Digital Audience for Radio (Cox Media Group); Phillip Beswick, President / CEO (The Media Audit); Martin Kristiseter, VP Mobile Solutions (Marketron); Bill Freund, EVP/ Chief Revenue Officer (Clip Interactive).
9:50-10:05

Research Presentation




The New Curators

A look at brand new, unreleased research on song sharing and the behaviors of those who actively share music on social media.

Presented by Tom Webster, Edison Research and sponsored by Triton Digital.
10:05 – 10:20

Featured Speaker




The World's Best Radio Apps

Mobile Apps in the US and Beyond, presented by James Cridland, Radio Futurologist, Media UK.
10:20 – 11:00

Panel

The Podcast Phenomenon: Capturing Listeners With Compelling Content

Podcasts are breaking the code for creating innovative online content, and advertisers and listeners are taking notice. This panel will discuss issues like audience measurement, creative excellence, and the potential of the podcast marketplace.

Moderator: Brad Hill, VP/ Managing Editor (RAIN Enterprises) Panelists: Bryan Moffett, VP, Digital Strategy & Sponsorship Opportunities (NPR); Mark McCrery, Founder/CEO (Podtrac); Ram Ramkumar, Co-Founder/CEO (Swell Radio); William Sanchez, Senior Director, Digital/ Executive Producer (Fox News Radio); Chris Peterson, Director of Operations (TheBlaze Radio Network).
11:00 – 11:15

Break

Networking Break
11:15 – 12:00

Panel

Listener's Choice

There are a lot of streaming services in the marketplace today, and it sometimes seems like they offer the same things – song recommendations, playlist building, on-demand artists and songs, and curated and genre channels. How can a platform stand out and capture the consumer's attention? This panel will examine similarities and points of differentiation in the streaming audio marketplace.

Moderator: Ted Cohen, Managing Partner (TAG Strategic) Panelists: Anthony Bay, CEO (Rdio); Darryl Ballantyne, Founder/CEO (LyricFind); Thierry Ascarez, VP, Business Development (Radionomy);David Porter, Founder/CEO (8Tracks); Mike Novak, President & CEO (K-LOVE); Peter Berg Steffensen, Founder & CEO (Moodagent).
12:00-1:00

Keynote Speech

Jason Calacanis – State of Media

Jason Calacanis, serial entrepreneur, angel investor, CEO of Inside.com and host of This Week in Startups will deliver his annual State of Media Speech, followed by Q+A.
1:00-2:00

Lunch

Sponsored by BRSMedia/dot.FM
2:00-2:40

Panel

Royalties and Revenue

As more and more streaming services enter the game, and listenership continues to grow, the debate continues: is there a formula that works for both artists and streaming services to make money? Hear experts from both sides debate the question of an economically feasible business model for streaming audio.

Moderator: David Oxenford, Partner (Wilkinson, Barker, Knauer, LLP) Panelists: David Rosenberg, Exec Director Business and Legal Affairs (Beats Music); Jay Frank, Owner/ CEO (Digsin); David Levin, VP, New Media (BMI); Colin Rushing, General Counsel (SoundExchange).
2:40-2:50

Featured Presentation

Amplifying Digital Audio Measurement

Shining a spotlight on the unique characteristics and market demands of digital audio measurement. Presented by Jeff Wender, SVP Digital, (The Nielsen Company).
2:50-2:57

Pecha Kucha

MusicMaster
2:57-3:10

Break

Networking Break
3:15-3:40

State of the Industry

Kurt Hanson

State of the Industry Address 2014
3:40-3:50

Featured Speaker

POV

A thought leadership presentation by Steve Jones, VP/GM ABC Radio News.
3:50-4:35

Panel

Moving the Needle on Streaming Audio Ad Revenues

With 150 million listeners, Internet radio is now a mass market medium. Is the marketplace poised to take advantage of that status? What factors are involved in making sure streaming audio services capture their share of the digital spend? From stewardship systems and programmatic buying platforms, to audience and campaign measurement, this panel of experts will examine the tools and techniques involved in propelling spending on online audio to the next level.

Moderator: Rockie Thomas, VP, Business Development (AdsWizz) Panelists: Cheryl Lucanegro, VP, Sales  (SoundHound); Andy Lipset, VP, Local & National Broadcast (Pandora); Les Hollander, Senior Director, Sales U.S.  (Spotify); Mitch Kline, Co- CEO (Targetspot); John Rosso, President, Market Development (Triton Digital).
4:35-4:45

Featured Speaker

POV

A thought leadership presentation by Neal Schore, President and CEO, Triton Digital.
4:45-5:30

Panel

Dashboard Dynamics

Today's new cars feature integrated dashboards that put the consumer in the driver's seat, letting them choose among a vast array of media entertainment. How should you adapt your strategy to compete in today's marketplace? A panel of auto entertainment industry experts will discuss the streaming auto opportunity.

Moderator: Paul Heine, Senior Editor, (Inside Radio); Panelists: Mike Bergman, Senior Director, Technology & Standards (Consumer Electronics Association); George Lynch, VP, Automotive Business Development (Pandora); Ty Roberts, Co-Founder/ CTO (Gracenote); Carl Rohling, VP, Sales & Business Development (TuneIn); Scott Burnell, Global Lead, Business Development & Partner Management (Ford).
5:30-7:30

Cocktail Reception

Join us by on the pool deck for our fabulous RAIN Cocktail Reception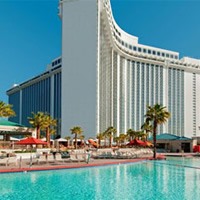 The LVH – Las Vegas Hotel & Casino, Sunday April 6, 2014, 9am – 7pm
Our annual RAIN Summit West is the premiere educational and networking event of the year for the Internet radio and online audio industry, taking place as a partner event to the NAB Show.
Join RAIN News Publisher Kurt Hanson and RAIN Enterprises CEO Jennifer Lane for a full day of panel discussions and presentations on all aspects of the evolving online audio marketplace, followed by the best networking event in the industry, the poolside RAIN Summit Cocktail Party.