RAIN SUMMITS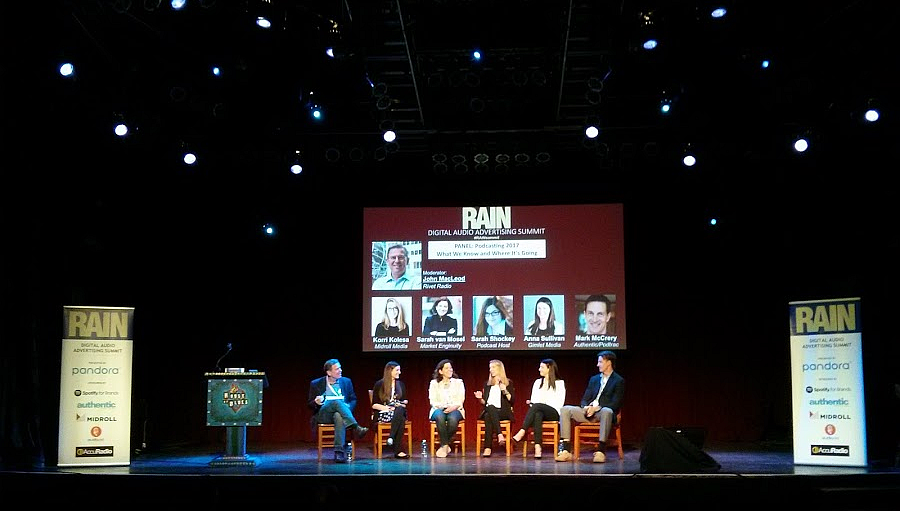 ---
The preeminent knowledge and networking events for online audio.
---
RAIN Summits are must-attend events where leading executives, innovators, and thought-leaders gather to chart the evolution of internet radio, streaming music, podcasting, and smart-speaker audio
These unique conferences illuminate the future of online audio, while providing space for networking across the borders of digital audio's ecosystem.
RAIN Summits foster business development by bringing together many dimensions of the online audiio industry — streaming services, technology providers, advertisers, broadcasters, podcast networks, and more.
As audio grows in importance as a media category, RAIN continues its leadership as the preeminent knowledge organization for online listening.
---

Praise for RAIN Summits:
---
"RAIN Summits are always one of the most informative and well-managed events I attend."
---
"I flew down from Dubai for this and it was totally worth the effort."
---
"I find the entire conference fascinating and feel like we are exploring the future."
---
"Great content. The program moved. Well worth the money."
---
"Attracts the people I need to speak to face-to-face."
---
"Excellent panels, and very well paced."
---
"I found the content and speakers to be top notch."
---
"A good networking opportunity with like-minded people."
---
"Helps me clearly see how to move forward in an ever-evolving environment."
---
"Great! Just as I had hoped."
---
"Always the right crowd."
---
"Packed with lots of information and insight. Thank you!"
---
"Met some great colleagues; some will be good friends."
---
"It was excellent. Lots of chances to network, meet new people, and share ideas."
---
"Informative and insightful look into the on-demand, Internet radio world."
---
"Moderators did a great job keeping the discussions on track."
---
"Good opportunity to get the pulse of the industry."
---
"RAIN packs a lot of info into one day. Love it."
---
"I found the summit extremely valuable."
---
"Always a great time."
---
"I absolutely loved the summit."
---
"Very cool location, vibe, set-up."
---
"Very good. The content was fresh and valuable."
---
"I thought it was great. Full of good insights and lively, fun conversation about the state of advertising."
---
"Great event."
---
"Great networking event with interesting speakers."
---
"Really inspirational in the main. A real eye-opener to the possibilities created by digital platforms."
---
"A huge variety of interesting speakers from a range of backgrounds gave an insight into the workings of the audio industry."
---
"I thought it was fantastic! One of the best conferences I've been to, with nearly every session relevant and engaging."
---
"As always I learn a great deal at your event and make important industry connections. You came through again. I was thrilled. impressive roster of presentations and material."