VISIT THE FULL RAIN SUMMIT EUROPE 2019
OFFICIAL WEBSITE HERE! … INCLUDING VIDEO!

The 8th Annual RAIN Summit Europe returns to London November 13th. This major international full day event covers the digital audio spectrum from Podcasting, to on-line, streaming, on-demand in-home, mobile, pure-play, and car dash interactivity. The summit brings together the UK and Europe's major National and European Region Broadcasters in round-table conversations, alongside international guest speakers; the key Agency, Advertiser, Brand sector leaders for round-table discussions focusing on digital audio; and the global companies leading the way in digital content, distribution, and monetization.
VIDEO HIGHLIGHTS
SPEAKERS, PANELISTS, AND MODERATORS Including…

9:10am: Kurt Hanson (Founder, RAIN / Founder and CEO, AccuRadio)
State of the Industry
RAIN Founder, AccuRadio CEO, and industry pioneer Kurt Hanson debuts the 2019 edition of his renowned overview of the online audio industry. Don't miss his trademark humor, illuminating metrics, and insightful view of the future.
---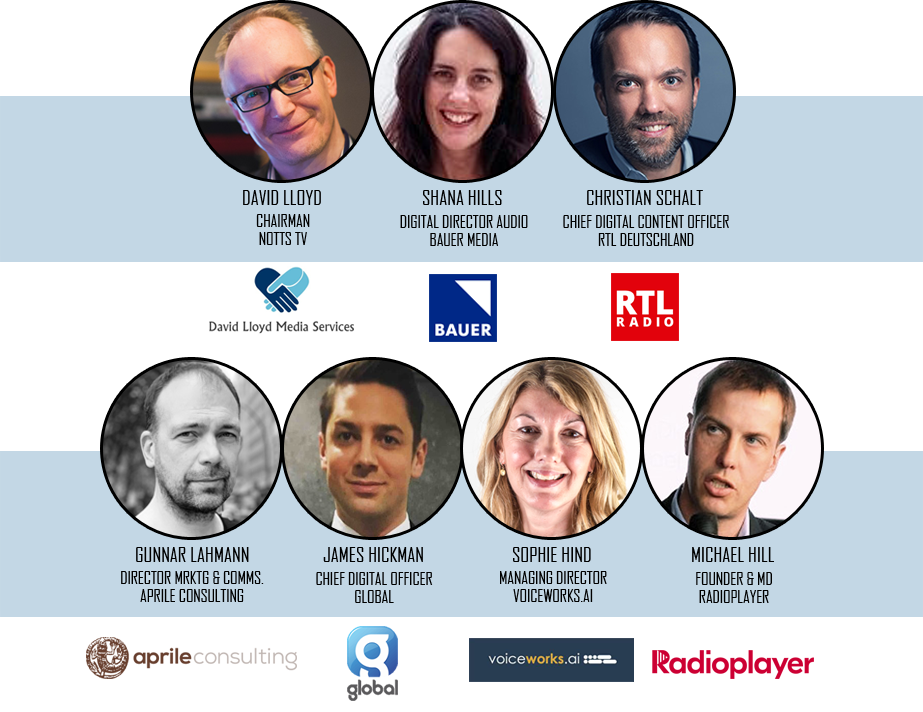 9:35am: Digital 360 Audio Radio Roundtable
Innovative methods of approaching digital are emerging across broadcast, media, and the greater digital audio community. This international panel focuses on a wide-angle view of digital initiatives in radio.
Moderator: David Lloyd (Chairman, Notts TV)
Christian Schalt (Chief Digital Officer, RTL Radio Deutschland)
Shana Hills (Digital Director, Audio, Bauer Media)
Gunnar Lahmann (Director Marketing & Communications, Aprile Consulting)
James Hickman (Chief Digital Officer, Global)
Sophie Hind (Managing Director, voiceworks.ai)
Michael Hill (Founder & MD, Radioplayer)
---

10:15am TARGETSPOT PRESENTATION
Digital Audio has become our daily companion, from our Wake-up tunes, Spoken-word news, and commuting podcasts, to our workout playlists, chill-out streams and Sports updates. Join Targetspot as we dive into a listener's daily audio journey and explore how audio is consumed, what mediums exist today, the impact of audio advertising, and how the landscape is primed to evolve in 2020!… Presented By
Adam Pattison (Managing Director, UK & Ireland, Targetspot)
---
10:45am NETWORKING BREAK
---

11:05am The Globalization of Podcasting
Podcasting is outgrowing nationally defined markets. Research continues to measure audience and revenue by region, even as podcast networks break boundaries of distribution. This has huge implications and promise on the business side, as advertisers gain access to megashows originating in different countries. This conversation brings together key executives from Wondery and Stitcher/Midroll to explore how globalization affects all stakeholders.
Ruth Fitzsimmons (Managing Director, Podfront)
Declan Moore (Head of International, Wondery)
Sarah Van Mosel (Chief Revenue Officer, Stitcher)
---

11:40am Digital Audio Advertising: Publisher View
Today's digital audio advertising includes programmatic audience targeting and other technologies which offer compelling and creative options for advertisers in digital audio. This panel brings together audio publishers to discuss what has worked for them in what is described as a golden age of audio.
Moderator: Brieuc Verwilghen (VP Supply Europe, Adswizz
Nathaniel Francis (Ad Operations Director, Bauer Media)
Ryan Rummery (Commercial Digital Drector, UK Global)
Mara Negri (Director of Parnerships & Business Development, Mediamond)
Matthias Schenk (Director Publisher Management, RMS Marketing Service)
---
12:15PM LUNCH
---
FOR FULL DAY EVENT SCHEDULE 9:00AM TO 4:00PM, VENUE DIRECTIONS & LOCATION DETAIL, SPONSOR, SPEAKER AND PANEL INFORMATION, NETWORKING COCKTAIL PARTY, CLICK THE RAIN SUMMIT EUROPE BANNER BELOW…
---

Banner Photographs:
Floriane Vita | Janelle Hewines | Daniela Mota