EARLY MOVER REGISTRATION NOW OPEN!


MORE SUMMIT DETAILS COMING SOON!
The 2nd Annual RAIN Summit Canada returns to the Glenn Gould Studio, Front St Toronto, October 16th. This major national full day event covers the digital audio spectrum from Podcasting, to on-line, streaming, on-demand in-home, mobile, and dash interactivity. The summit brings together Canada's major National and Regional Broadcasters; the key Agency/Advertiser sector nationally; alongside the global companies leading the way in digital content, distribution, and monetization.
SPEAKERS, PANELISTS, AND PARTICIPANTS Including…
WITH MORE TO BE ANNOUNCED!
PANEL CONTENT INCLUDING…
---
WELCOME
RAIN President Brad Hill and RAIN Founder Kurt Hanson

9:00 – STATE OF THE INDUSTRY
Kurt Hanson (CEO, AccuRadio)
The renowned and deeply informative presentation by RAIN's founder and pioneering streaming audio innovator.
---


9:20 – 2nd ANNUAL DIGITAL AUDIO AGENCY ROUNDTABLE:
Digital audio advertising is increasingly on the agency radar as consumer habits change and the unique advantages of digital audio become better known. What are the advertiser and brand expectations of campaign planning, implementation, and attribution? RAIN's inaugural Digital Agency Roundtable brings together top Canadian agency executives to deep-dive into data, targeting, performance indicators, and more.
MODERATOR: Andy Slater (Regional Vice President of Sales, East, Midroll Media)
Caroline Moul (President, PhD)
David Jowett (Partner, Head of Media, No Fixed Address)
Sarah Thompson (CSO, Mindshare)
---

10:05 – THE CANADIAN PODCAST LISTENER 2019 REPORT
The third edition of this landmark research project produced by Audience Insights Inc. and Ulster Media, supported by The Podcast Exchange (TPX). Over 1,500 monthly podcast listeners were deeply surveyed for this extraordinary consumer research profile.
Jeff Vidler (President, Audience Insights)
Jeff Ulster (Chief Contant and Technology Officer, The POdcast Exchange)
---
=== NETWORKING BREAK ===
---

10:55 – CONNECTING DIGITAL AUDIO TO DIGITAL LISTENING
On the digital side of audio, "reach" is more than a number. The business of digital audio is effectively reaching to right audience. This panel features experts at leading global platforms specializing in intelligently connecting streaming audio and podcasting to the global marketplaces of digital listeners.
MODERATOR: Rob McCracken (Senior Director, Corporate & Business Development, The E.W. Scripps Company)
Stephanie Donovan (SVP Publisher Sales, North America, Triton Digital)
David Huszar (Business Lead, leanStream)
Kevin McCaul (Global Head of Ad Operations, Acast)
Guy Tasaka (Senior Director, Product Management, WideOrbit)
Francesco Baschieri (President, Voxnest)
---
11:35 – WHAT'S NEXT FOR DIGITAL AUDIO ADVERTISING INNOVATION?

A cutting-edge conversation about the latest trends and innovations in the market today.
Rachael Dorin (Director, Strategic Partnerships, AdsWizz)
Christopher Nimigon (Chief Revenue Officer, DAX Digital Audio Exchange)
Karim Kanji (Director Social  & Emerging Media, Active Canada)
---

12:10 – DIGITAL AUDIO RADIO ROUNDTABLE:
Broadcast radio around the world is confronted with the challenges and opportunities of digital listening. Latest in a series of RAIN's radio leadership panels in the U.S., Europe, and Australia, this forum is focused on the digital strategy and future view of Canadian radio.
MODERATOR: Dave Farough (Programming & Talent Coach)
Chris Duncombe (Director of Streaming and Podcasting, Corus Entertainment)
Rob Farina (Head of Content, Strategy, and iHeartRadio Bell Media)
Leslie Merklinger (Senior Director, Audio Innovation, CBC Radio & Audio)
Julie Adam (SVP Radio Rogers)
---


=== LUNCH ===


---


1:55 – HOW CAN PODCASTING GET ITS FAIR SHARE OF AD BUDGETS?
Studies show that podcasts capture as much as a 4-6% share of buyable audio consumption in Canada. With more than $1.5 billion currently spent on audio advertising in Canada each year, that suggests that podcasting's rightful share of ad revenue lies somewhere between $60 and $90 million. So far, we've only achieved a small fraction of that total. How do we close the gap? Agencies and publishers on the Client Advisory Panel for The Canadian Podcast Listener study will talk about the challenges and opportunities and take questions from the audience.
MODERATOR: Jed Schneiderman (Executive Vice-President, Growth and Marketing, EQ Works)
Jamie Saull (Head of  Brand Partnerships at TSN The Sports Network Canada)
David McDonald (VP, Director of Radio Investments, IPG Mediabrands Canada)
Melissa Kotsopoulos (VP Director, Trading & Analytics, PHD)
Bob Kane (Vice President Sales, TPX)
---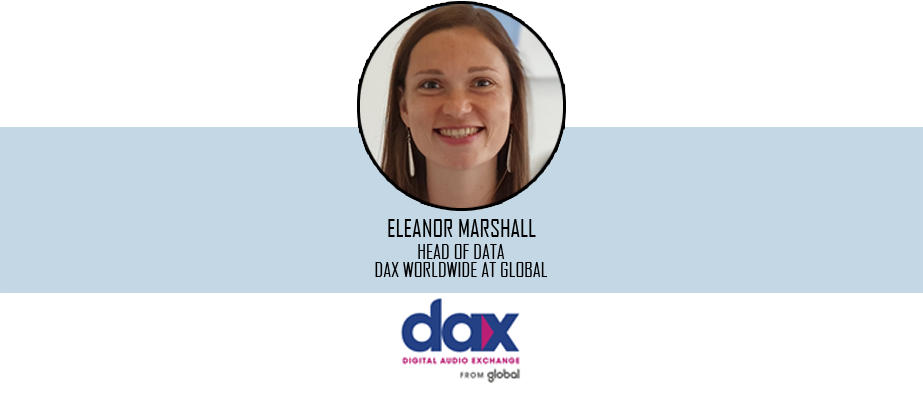 2:35 – SOLVING THE MEASUREMENT CHALLENGE IN DIGITAL AUDIO
Eleanor Marshall (Head of Data, DAX Worldwide, Global)
---
=== NETWORKING BREAK ===
---


3:25 – EXCELLENCE IN PODCASTING
What does it take to win in podcasting? How is success built? This panel brings together some of Canada's best known podcasting talent in hosting, creation, and production to discuss the art, craft, and business development of on-demand audio.
MODERATOR: Dan Misener (Head of Strategy and Audience Development, Pacific Content)
Terry O'Reilly (Host, "Under the Influence" CBC)
Alan Cross (President, Brain Dead Dog Productions)
Kristi Lee (Creator and Host, "Canadian True Crime")
Tamara Khandaker (Host and Producer, "Wait, There's More")
---

4:05 – EXPANDING THE CANADIAN DIGITAL AUDIO MARKETPLACE
Driven by technology and new forms of audio content, the audio revolution has now extended beyond a decade. In fact, with the rapid expansion of podcasting, has become more prevalent than ever before in the ears of listeners and the interests of advertisers. Yet digital audio is still not yet being fully optimized in Canada. Expanding use of digital audio increases engagement and opens up new ways for advertisers to connect with consumers. This presentation is designed to demonstrate the need and the opportunity to evolve and enhance the Canadian digital audio marketplace for listeners, publishers and advertisers.
Dominick Milano (SVP, Sales and Business Development, North America, Targetspot)
---
=== NETWORKING RECEPTION ===
---
MANY MORE PANELISTS, PANELS, AND PRESENTATIONS, TO BE ANNOUNCED FOR THIS 2ND ANNUAL RAIN SUMMIT CANADA EVENT!
---

Banner Photographs:
Floriane Vita | Janelle Hewines | Daniela Mota