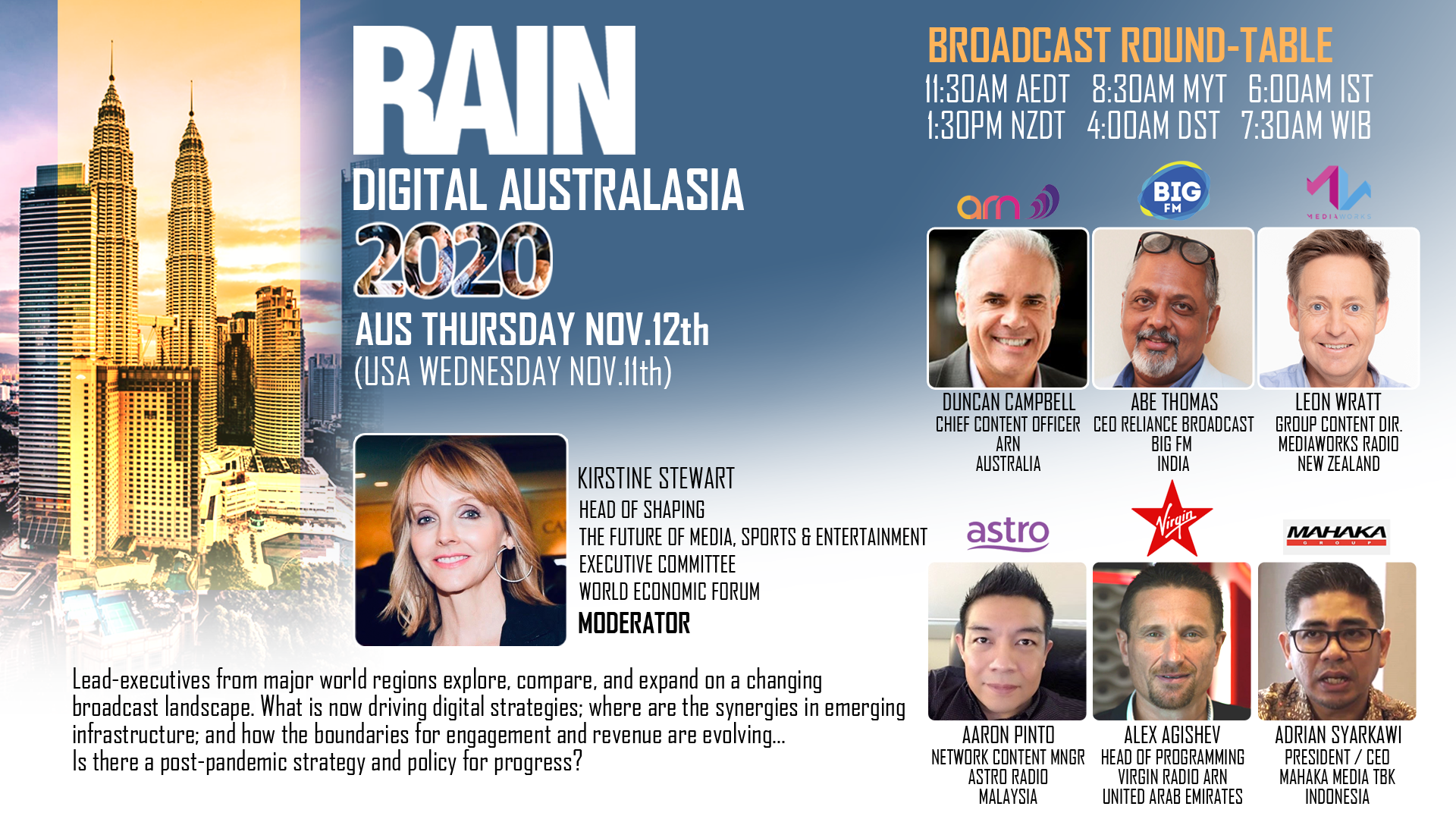 RAIN RETURNS TO THE THE SOUTHERN HEMISPHERE, AND A TARGETED FOCUS ON ALL THAT IS DRIVING THE OCEANIA – PACIFIC REGION IN DIGITAL AUDIO, BRAND, MEDIA NETWORK, AGENCY, PODCAST, GAMING, AND ORIGINAL CONTENT.
THIS 2020 RAIN DIGITAL AUSTRAL-ASIA EVENT ASSESSES THE REAL DIGITAL OPPORTUNITIES GOING FORWARD AS WE EMERGE FROM THE COVID PANDEMIC INTO AN ERA OF ENHANCED GLOBALITY. WORLD REGIONS FROM AUSTRALIA AND NEW ZEALAND, TO SOUTH KOREA, SOUTH EAST ASIA, JAPAN, INDIA, AND THE UNITED ARAB EMIRATES ARE PARTNERING WITH LEADING GLOBAL DIGITAL COMPANIES AND REGIONALLY FOCUSED INITIATIVES, THAT ARE LEADING THE WAY IN CONTENT, DISTRIBUTION, AND MONETIZATION.
JOIN US AS WE TAKE A DEEP DIVE INTO ALL
THAT IS NOW SHAPING THE WAY FORWARD GLOBALLY.
SESSIONS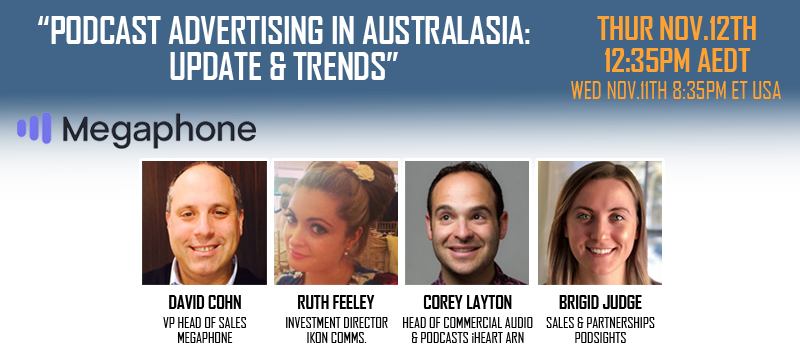 Global Podcast Host, Megaphone and Australia's ARN/iHeart Podcast Network discuss their work with agencies, attribution tagging and reporting, along with what's next for podcast sales in the southern hemisphere. On stage will be David Cohn, VP & Head of Sales at Megaphone, Ruth Feeley, Investment Director, Ikon Communications, Corey Layton, Head of Commercial Audio & Podcasts ARN-iHeart Podcast Network Australia, and Brigid Judge Director of Partnerships for Podsights.
---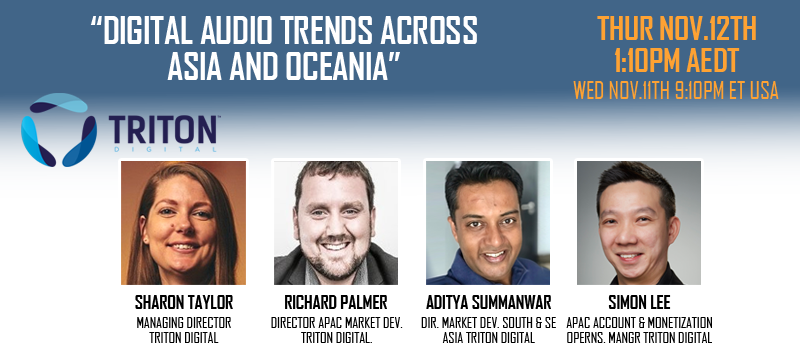 This 40-minute session will provide thought-provoking insight around the importance of streaming audio and podcasting in Australasia. Triton's experts across streaming, podcasting, measurement and monetization will collaborate with both clients and partners to provide an array of insights and experiences on the growth and evolution of the burgeoning medium in the region.
---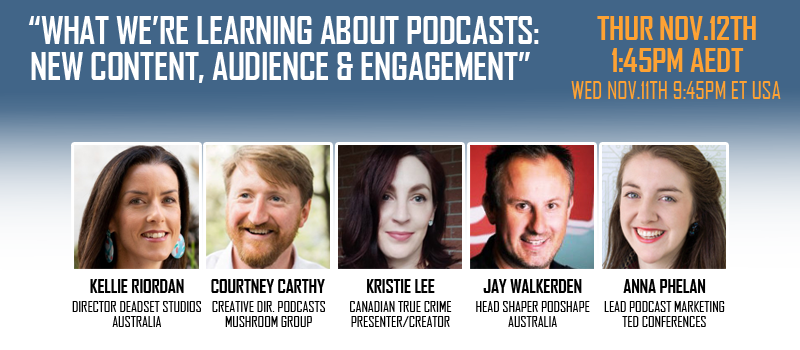 Leaders everywhere in the Podcast content and engagement landscape are witnessing an acceleration of consumption, and a re-defining of the evolving opportunities and realities, making non-linear/on-demand content a staple of the global audience diet. Tastes and expectations are changing in this post-pandemic world, just as categories and topics continue to proliferate. With subject matter ranging from true crime to TED talks; music and the power of story; to cultural norms and the strategy, production, budget and distribution, there's much to discuss!
---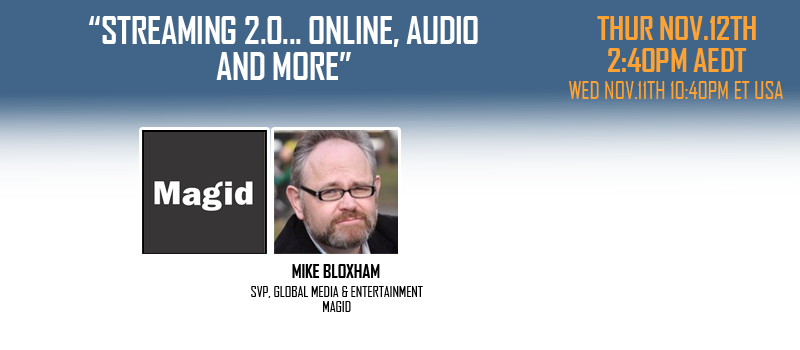 Video streaming services have changed the face of the media landscape, but they're essentially a one-dimensional offering based on the ability to watch what you want and when you want. All well and good, but in the near future we are going to see the streaming landscape evolve to become a multi-faceted proposition with a wide array of content types and functions that make the current offering look quaintly old-fashioned, with implications and opportunities for all…Mike Bloxham, Senior Vice President, Global Media & Entertainment, Magid, presents some key observations.
---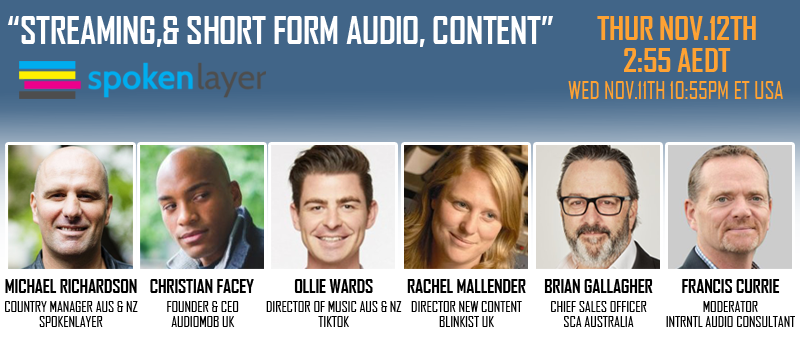 As spoken word, social audio, and video builds on previously continuous pure music streams, how much more is possible in personalization, concurrent contrasted content, and variations that are accelerating and re-shaping pandemic entertainment experiences… now and going forward…
---

Banner Photographs:
Patrick Langwallner | Stephanie Wong