The NAB/RAB Radio Show, and RAIN Summit Austin, remain scheduled to start next Tuesday, September 5. We all hope for the best outcome possible for Texas residents during this environmental ravage. If you plan to attend the Radio Show, please register for RAIN also, either with the button below or at the Radio Show registration page.
We hope to see you there.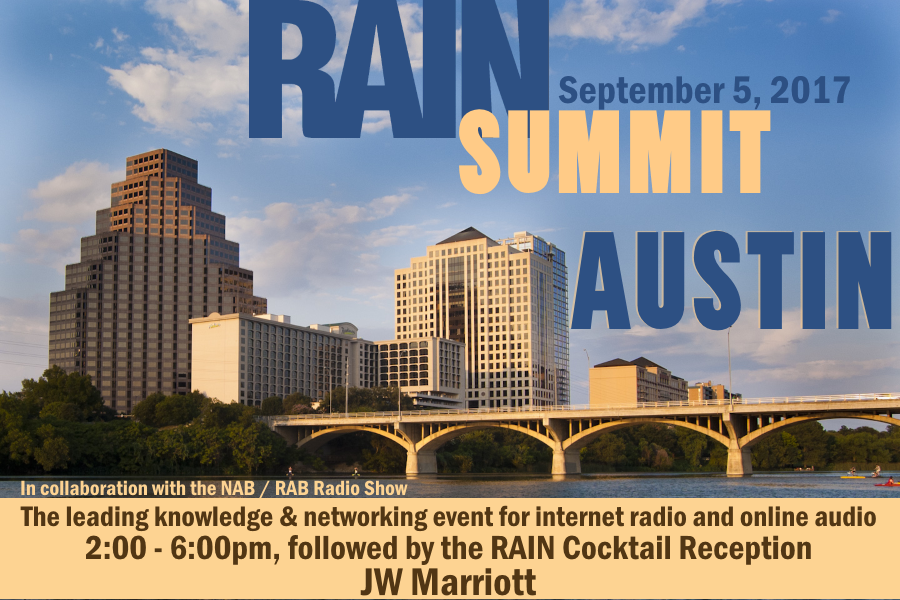 ---
---
2:00 – 2:30 KEYNOTE: State of the Industry
Kurt Hanson (Founder and Publisher, RAIN News / Founder and CEO, AccuRadio)
The deeply informative annual presentation by RAIN's founder and pioneering streaming audio innovator.
2:30 – 3:00 RESEARCH: The Smart Audio Report
Larry Rosin (President, Edison Research)
Results of two groundbreaking report sconducted by Edison Research for NPR and Pandora, revealing how smart speakers are being adopted by Americans for listening to audio and other features. A key data mashup for 2017!
3:00 – 3:40 PANEL: Smart Speakers, Radio, and How to Seize the Audience
MODERATOR: Bryan Moffett (COO, National Public Media)
Rob McCracken (Director Digital Solutions Group, The E.W. Scripps Company)
Charles Steinhauer (Chief Operating Officer, Westwood One)
Ryan Higbie (Vice President of Sales & Solutions Services, XAPPmedia)
Voice-activated smart speakers such as Amazon Echo are the most important new radio broadcast channel in years. Research shows consumers adopting these devices for listening and radio can have a seat at the table. Panelists who are shaping the revolution will share why they are seizing the opportunity and how to establish a voice interactive presence today.
3:40 – 3:55 PRESENTATION: The 8th Annual RAIN Awards

Kurt Hanson (Founder, RAIN) and Brad Hill (President, RAIN).
Winners of the 8th Annual 2017 RAIN Internet Radio Awards will be announced! Candidates compete in five categories: Webcasting, Broadcast Streaming, Podcast, Digital Strategy, and Overall Online Radio Service.
=========
———— NETWORKING BREAK ————
=========
4:15 – 4:25 PECHA KUCHA
Jon Bennion (Director of Sales, Boostability) will brave the daunting challenge of Pecha Kucha! Originating in Japan, Pecha Kucha is a presentation style in which 20 Powerpoint auto-advance every 20 seconds. The presenter must keep pace, deliver a message, and make it entertaining. Pecha Kucha has been a highlight of many past RAIN Summits, and are delighted that Boostability is bringing it back. Don't miss this!
4:25 – 4:55 PRESENTATION: How to Launch Your Radio Station's First Podcast
Seth Resler (Digital Dot Connector, Jacobs Media)
Radio/podcast specialist Seth Resler's unique presentation for launching a podcast — from concept to creation, publishing, and promotion.
4:55 – 5:05 RAIN REVEAL: Skip FM
Christian Schalt (Owner, Next Level Audio) and Rudiger Landgraf (Program Director, KRONEHIT)
Consumers love the ability to skip songs … where it is available. Can this vital feature be introduced to broadcast radio? Two European innovators cross the pond to RAIN for the premiere presentation of groundbreaking technology developed for KRONEHIT, Austria's biggest commercial FM station.
5:05 – 5:40 PANEL: Digital Drivers of Radio in 2017
As media becomes ever more digitized, radio has more options than ever for increasing digital revenue. Know what broadcasters are doing in 2017 to develop the digital side of their business and strengthen their revenue outlook for the future. What are the most effective tactics and practices for 2017 and beyond?
MODERATOR: Jed Williams (Chief Innovation Officer, Local Media Association)
John Rosso (President – Market Development, Triton Digital)
Carolyn Gilbert (Founder & President, NuVoodoo)
Vince Benedetto (President & CEO, Bold Gold Media Group)
5:40 – 6:00 CONVERSATION: The Legal Update
David Oxenford (Partner, Wilkinson Barker Knauer) and Colin Rushing (Senior Vice President and General Counsel, SoundExchange)
Famous at RAIN Summits for his ability to demystify legal and licensing issues, David Oxenford returns for a conversation with SoundExchange General Counsel Colin Rushing.
---
6:00 – 7:00 THE RAIN COCKTAIL RECEPTION

Sponsored by WideOrbit. Network with the best! The RAIN Cocktail Reception is where meetings happen and business is developed. Many companies have told us that key initiatives and partnership are launched during this cocktail hour. Plan to be there!
---
---