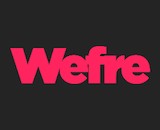 Don't blink or you'll miss it. Another effort to make a free streaming service on the back of existing platforms has emerged and gone into hiding based on legal concerns in the span of days. Wefre used the official APIs from YouTube and Spotify to create a free streaming platform. After launching to much Twitter support earlier this week, the creators have stopped operation of their own accord.
The Spanish trio that made Wefre has posted a note to their site explaining that they are contacting Google and Spotify to ensure whether their use of the APIs are within the allowed usage. Considering the group is offering the content of those platforms on demand and without ads, it seems dubious whether their creation will stand up to legal scrutiny. Wefre had also created a Kickstarter campaign aimed at turning the browser platform into a mobile app.
If this story sounds familiar, it's probably because another platform called Aurous attempted a similar stab at joining the streaming industry late last year. That platform pulled content from licensed third-party sources and was quickly hit with legal action from the RIAA. The attitude at Aurous was far more combative than Wefre and built without the formal APIs, but we'll have to see whether good intentions are enough to save this new creation.