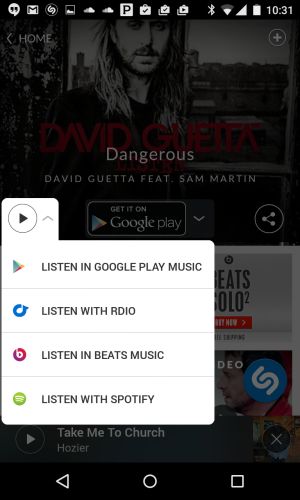 Music-ID app Shazam announced a mobile app refresh in its ongoing (unspoken) battle with SoundHound for user loyalty. Charts and listening are the two pillars on which the new Shazam rests.
Reaching Out to Spotify Users
Shazam's integration with Spotify is deepened now, allowing easy full-song listening in that service, added to existing integrations with Google All Access and Rdio. Our testing in an Android smartphone worked well for songs that we tagged, and individual tracks in a Shazam list of trending songs. However, the Play All button, which plays 28-second clips of trending songs, could not be switched over to Spotify, Google, or Rdio in our test. There is no way to create an instant full-song playlist of Shazam's trending charts.
That missing feature is perhaps understandable. Flipping over to an on-demand music service for a long list of tracks would take the user out of Shazam, possibly for long periods, using the app merely as a jumping-off point for Shazam-curated listening outside of Shazam.
The addition of Spotify nudges up against SoundHound's differentiating Spotify relationship. The iOS version of Shazam now allows building a "My Shazam Tracks" within Spotify, added to that feature already existing for Rdio. (That feature is promised for Android.) We still like SoundHound's auto-add to a Spotify playlist, which enables fast, nearly mindless one-touch playlist building.
The linkage between song-ID apps and music service apps is competitively crucial. Any kind of exclusive relationship with Spotify, Rdio, or Google makes the song-ID app preferable to those subscribers. Shazam's affiliation with Rdio defined it to some extent, as did SoundHound's lock-in with Spotify. those differentiating lines have increasingly blurred this year, forcing the two leading music-ID to compete on the basis of in-app features (which have always been important, of course).
Charts and Trends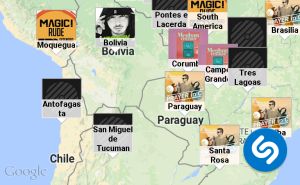 Shazam's large tagging volume makes it a good trend-spotter, and predictor of future breakout artists and songs. Shazam flaunted its muscle in this regard with a 2014 review and prediction.
The new app leans on that data expertise and surfaces it prominently on a rebuilt Home screen that features charts and trending tracks. These are the lists in which you can listen to brief clips (see above). Interestingly, Shazam also notifies you of your friends' tagging activities, if you allow it to connect to Facebook and/or Google Plus circles.
Clicking the ALL CHARTS button reveals an interactive map (concept borrowed from SoundHound's long-distinguishing mapping feature) where you can see tagging activity around the world. to make the most of this, reverse-pinch the map to drill into small regions. It's a good (and fun) tool for discovering music outside of your home country's hit list.