Nielsen Scarborough, a division which measures consumer shopping intentions among other projects, released an unusual piece of research: A shopping list of sorts, tailored to podcast listeners.
The overall message is that podcast-listening households over-index for love of consumer technology. Therefore, a good gift-giving strategy for podcast lovers includes eReaders, videogame systems, digital cameras … and topping the list, HD radios.
That particular preference might seem surprising, as digital radio sets are not driven by rampaging consumer demand in the U.S — as, for example, the healthy demand in Europe for DAB+ reception in the home and car. But framing of survey questions helps explain the result, which Nielsen Scarborough describes this way: "Podcast listener households are 189% more likely than the average U.S. adult to be planning to purchase an HD radio during the next year." Without knowing the baseline demand, we don't really know how much appetite there is for digital reception.
That said, HD radios are easily found in big-box retailers like Best Buy and Amazon. And just this week the RAIN team was comparing notes of favorite HD stations playing niche music categories. (And we all listen to podcasts, too. How many shopping days until Christmas?)
Podcast listeners are also more likely to use media or entertainment subscriptions, according to Nielsen. The data showed that they are 135% more likely to have downloaded or purchased music online and 121% more likely to have listened to an online music service in the past month.
---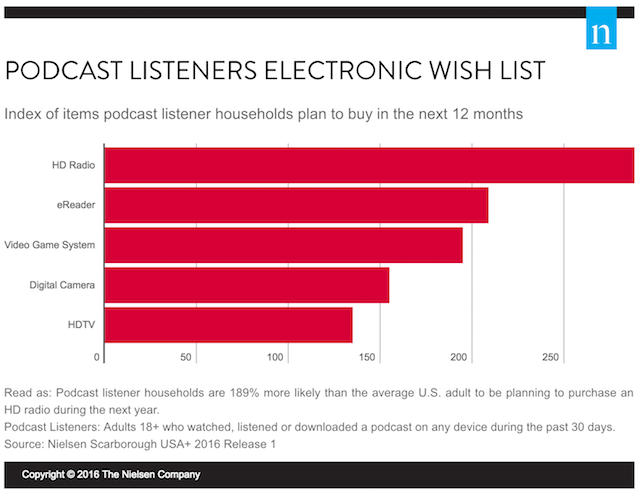 ---