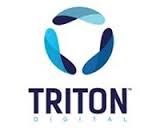 Triton Digital has hired Nicole Kuntz as its new senior vice president of compliance and industry relations, and chief compliance officer. Kuntz is a certified system information auditor, and will be tasked with overseeing the MRC accreditation process and ensuring that Triton's Webcast Metrics remains a best-in-class product.
"Recent years have proven that the digital audio industry is on a fascinating trajectory, and standard-setting has become increasingly important," Kuntz said. "Triton is a dynamic industry leader, and I am thrilled to join them to continue building on the highly-respected platform of innovation that is driving meaningful revenue and the growth of the digital audio industry."
Her past experience includes positions as vice president of regulatory affairs at White Ops, a company specializing in human verification technology and data integrity. Kuntz has also worked as vice president of audience analytics at comScore, and senior manager of the media and entertainment advisory services at Ernst & Young.