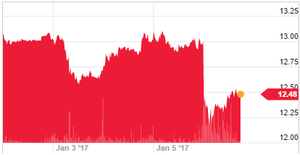 David Frear, CFO for Sirius XM, has quashed the latest rumors about the satellite radio company acquiring Pandora. "With respect to all the chatter about [these] acquisitions, you have to look at them as them not being likely," Frear said at the Citibank 2017 Internet, Media & Telecommunications Conference yesterday. "That's the way to characterize it."
The discussion about ties between Sirius XM and Pandora began in the summer, when news emerged that the satellite radio company's parent organization, Liberty Media, had made a $15-a-share offer for the audio company. Pandora turned down the early offer as too low, but since that potential relationship was discovered, the odds of such a deal going through remained a hot topic. The speculation resurfaced as recently as December.
Following Frear's comments, Pandora's stock has fallen today, as shown in the chart above. The market may be disappointed in this acquisition development, but CEO Tim Westergren likely is not. He has stated that he is uninterested in selling the company he founded.