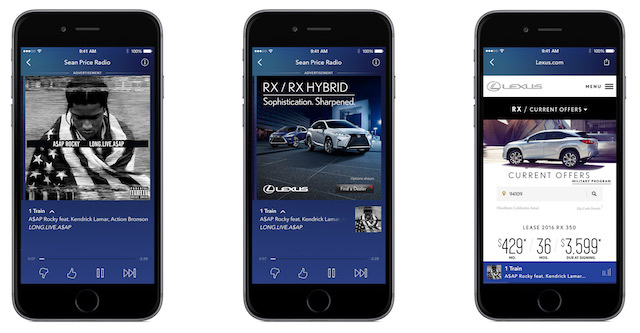 ---
Pandora is announcing today the wide release of its two newest ad formats: Muted Video and Responsive Mobile Display, after six months of testing with a handful of launch advertisers.
Launched in June, Muted Video plays in the square space where album art normally appears, only when the user is looking at the phone screen. That technical trick avoids wasted ad executions that don't make an impression. The listener may tap the video to un-mute it — obviously a moment of extreme engagement.
Responsive Mobile Display ads also appear in album art space, and resize to look good on any screen. (That's what "Responsive" means.)
Test partners included Denny's, Google, Express, and the Lexus Dealers Association. the six-month limited roll-out enabled Pandora to test the technology execution and collect engagement metrics that can be preached to advertisers generally. The company claims up to 50% more time spent with the new formats compared to previous ones. With the muted videos, Pandora found a 325 lift in listeners who spend at least five seconds with the ad, and what the company characterizes as "strong" completion rates.
"We applied the same expertise that makes us the leader in audio advertising to our new visual ads to deliver strong, measurable results," said John Trimble, chief revenue officer at Pandora. "Because our display ads are served only when a listener is looking at their phone and we have one of the largest logged-in user bases, we are uniquely positioned to deliver listener attention to advertisers at scale."
Pandora surveyed listeners to get opinions on the new formats. Three-quarters said they liked the new formats better than old ones, and were more likely to engage.