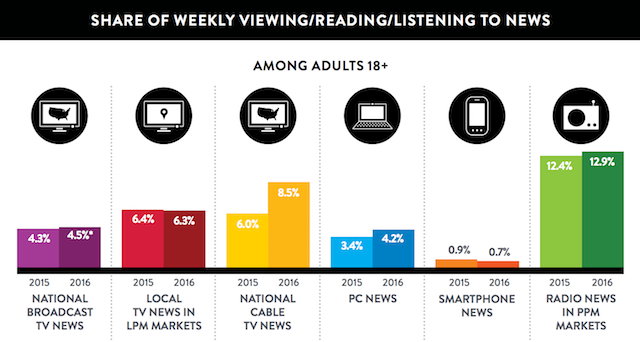 Nielsen's Total Audience Report for Q4 2016 placed a focus on news. The results showed how much of a role radio plays in news consumption for U.S. adults. The weekly gross amount news consumption on radio in PPM markets rose from 10.5 billion minutes in 2015 to 11.5 billion minutes in 2016. Radio trailed behind all three television outlets, with national cable TV news leading at 27.1 billion minutes in 2016. Local broadcast TV news in LPM markets secured 15.1 billion minutes while national broadcast TV news had 14.3 billion minutes.
However, radio did top the share of weekly listening in 2016 among U.S. adults consuming news at 12.9%, edging up from 12.5% in 2015. The listenership was highest among older listeners, with a 19.9% share among the over-50 demographic. For ages 35-49 the share was 8.5% and for ages 18-34 the share was just 5%.
The generation shift in TSL is apparent in radio's general reach also. In Q4 2016, the 12-17 crowd listened to AM/FM an average 7 minutes and 3 seconds per week. Time spent listening inched upward as the age cohorts got older, topping at 15:`17 for the 50-64 group.
Nielsen's recent data dives have revealed many trends for audio consumption in the U.S. The Q3 comparable metrics report revealed growth for both radio and streaming. The full 2016 music report also saw music consumption reach new highs, with streaming once again a big factor in the industry's strong performance.