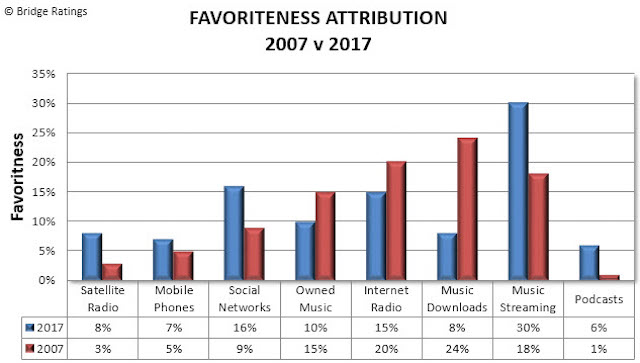 Bridge Ratings has posted an update to its New Media Gauntlet study, which reflects listener trends across different media. The latest results showed that although radio's weekly cume has been relatively stable over time, it has been declining in how many people dub it their favorite listening choice. Streaming, on the other hand, has been rising in "favoriteness," which Bridge said is chipping away at the numbers for both radio and downloads.
In 2017, music streaming was named the favorite source for 30% of respondents, compared with 8% in 2007. Other outlets that have posted big jumps over the decade are satellite radio (from 3% to 8%), social networks (from 9% to 16%), and podcasts (from 1% to 6%). On the other hand, owned music, Internet radio, and music downloads all had higher rates of favoriteness in 2007 than they did in 2017.
The Bridge Ratings update added data from a panel of 4,020 people aged 12 and up. The participants all listened to both broadcast radio and internet radio for at least 30 minutes a week each. They also downloaded music and streamed music on smartphones, tablets, or desktop computers.